News - September 2022
Welcome back to Cold Flame HQ and an announcement of new original music from the band as well as new concerts. A number of things have kept various members of the band busy over the summer and it is worth saying a huge thank you to all who have kept in touch either at the concerts Cold Flame have played in recent months or via emails and social media The diary is open for the rest of this year and the whole of 2023 and the band welcome all enquiries for both electric and acoustic shows throughout the next few months. Contact the band direct by email info@cold-flame.co.uk or patflame@yahoo.co.uk. Alternatively, you can message the band on Facebook at https://www.facebook.com/coldflamebluesuk
The new single
Starring Records are proud to announce the worldwide release this September of a brand new Cold Flame single entitled 'Last Flight'. The song was written by Cold Flame band leader and main songwriter, Pat Rowbottom, and is performed by members of the band. Lasting just under four minutes, the theme of the song reflects the growing awareness around the world of the dangers of climate change on humanity. Despite the gravity of the lyrical content, the song retains an upbeat feel - most welcome in the times we currently find ourselves in. The single will initially be available as a download only release. Last Flight by Cold Flame is officially released via Ditto Music on Saturday September 17 and is available to download on all the usual platforms including Apple, Amazon, Deezer and Spotify.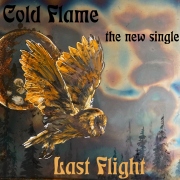 Cold Flame - Last Flight (on spotify)
To coincide with the release of the single, the band engaged Derbyshire artist Greg Williamson to provide a suitable visual image. Greg an aspiring young artist based in Glossop has come up with an intriguing design image of an owl in flight using the medium of rust on steel. The blue background was created by heating a piece of metal to change it's colour. This process is called 'bluing' The colour changes from grey to wheat colour and then blue and purple. This creates a background that resembles a cloudy night sky. Greg then used rust to create the owl image on top of the metal which then affects a change in colour whereupon the image is then sealed. The use of the Owl to portray a visual image to accompany the serious overtones of the lyrics is deliberate. Owls represent wisdom, knowledge, change, transformation, intuitive development, and trusting the mystery. Owls can show up when you are being asked to listen to your intuition. They are tied to the spiritual symbolism of death which brings about new beginnings with a higher understanding and evolved perspective. This Owl image has inspired Greg to continue working using these ideas on new related artwork.
To view more of Greg's work, go to https://www.sharkmanart.co.uk or @sharkmanart on Instagram
New concerts Autumn 2022
During September several additional French dates have been added to the gig list. In October, Cold Flame will once again return to UK dates with two showcase Jethro Tull tribute shows in Shrewsbury and Chester as well as further acoustic and electric concerts in Derbyshire and Staffordshire. All non Tull tribute shows will feature the band's original and traditional music alongside some classic Jethro Tull songs. For the latest gig updates check the band's gig guide on the website as well as https://www.facebook.com/coldflamebluesuk and https://www.facebook.com/coldflamefrance
---
News - February 2022
Welcome friends and fans of Cold Flame to the band's News page complete with the very latest news on all things relating to Cold Flame. We wish everyone good health and as positive a year as possible for all concerned. Whilst planning too far ahead remains tricky, we are feeling positive that there will be a few things both to look forward to and celebrate over the coming weeks and months.
2021 Summary
Looking back over the last twelve months, it would be easy to think that very little happened at band HQ primarily due to the continuing problems surrounding the Covid virus. Whilst this is true, 2021 saw Cold Flame sign a new record deal with independent record company Starring Records based in West Yorkshire, England. As an immediate result, three separate new Cold Flame digital releases saw the light of day. First came an updated digital version of the single 'Thoughts from the Heart' released in February 2021. This was followed in June by a tenth anniversary release 'The Acoustic Collection: 21 in 21 Edition' which featured a new cover image, full album remaster together with some previously unreleased studio material. Finally in December , Starring Records released the twentieth anniversary studio album 'Still Burning the Blues: Old Veins New Blood Edition'. Again this release came complete with a new album design, a full album remaster and some previously unreleased studio material. Concert appearances were limited for obvious reasons but a number of acoustic and electric shows took place both in the UK and in France. These included a few Jethro Tull tribute shows and blues festival slots. What was clear was the support we received from the public both on and off stage in spite of the hurdles and difficulties associated with planning challenges, cancelled gigs and health concerns.
Back on the road in 2022
The band are taking a cautious route in returning to live work both in the UK and also with the alternative group line up in France which now includes the flautist Blandine Doll. Electric shows begin in February and include a showcase date at Alexanders Live in Chester on Thursday February 24th which will see the band perform the music of Jethro Tull in a two hour plus special. The concert will feature many of the classic Tull songs known worldwide. Advance tickets are now available from the venue. All the information you need for this event is available at https://www.alexanderslive.com. Another not to be missed show sees Cold Flame performing at SpectacularFest 4 at The Electric Church Club in Blackburn on Saturday Feb 26th. Again advance tickets are now available though selling out fast for what is a special fundraising concert featuring Cold Flame alongside five other rock bands. This concert is to raise funds and awareness for the MIND charity. More details at https://www.facebook.com/ElectricChurchClub All band confirmed dates will be posted on our website as well as the band's official facebook site https://www.facebook.com/coldflamebluesuk and other regional and national platforms. To ensure all information is up to date, all press releases have been updated for this year as well as some other modifications on the band website. Given the interest in performing live this year if it is safe to do so, the diary is now open and Cold Flame welcome all enquiries for both electric and acoustic shows throughout the year. Contact the band direct by email info@cold-flame.co.uk or patflame@yahoo.co.uk. Alternatively you can message the band on Facebook at https://www.facebook.com/coldflamebluesuk
Blues in the South Magazine - February 2022
This month's Blues in the South magazine features a review of the Cold Flame twentieth anniversary release - 'Still Burning the Blues: Old Veins New Blood Edition'. Given the positivity of the review, it has been included below along with the front cover of this month's edition. The review is great and will hopefully encourage more music fans to sit up and take notice by checking out the band's music this year. If you like the UK blues scene in all it's various guises, then this magazine is most certainly for you. You can subscribe for free.
Radio Shows
Over the next few weeks, the band will be featured on a number of radio shows promoting the band's most recent release the 20th anniversary expanded version of Still Burning the Blues. These shows will include interviews with the band. All radio show promotion will be posted on the band's face book page.
Cold Flame... February 2022.
---
Archived News
2021
2020
2019
2018
2017
2016
2015
2014
2013
2012

---
This site is hosted by Vision Internet Ltd