News - July 2012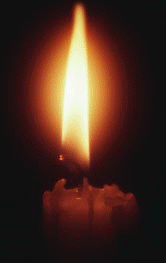 Festival dates
Cold Flame have always played a small number of open air festivals in recent summers but recent updates on the gig guide can confirm that this year, to date, the band look likely to miss out. In the last two weeks, the band have learnt that two separate weekend festivals featuring the band and due to take place over the next few weeks have been cancelled. For reasons known only to local parish councils and narrow minded politics, both Wattsfest and The Limetree Festival have been refused planning consent at the eleventh hour. Tough this may be for Cold Flame but tougher still for all the guys organising these festivals who will now have to start all over again for next year much lighter in pocket and heart. Additionally the Weyfest Festival, which this year will feature Tull guitarist Martin Barre and his New Day band has already confirmed a full line up so it now looks likely that Cold Flame will look to be part of the bill for next year, not this, as was previously hoped. Check out the Cold Flame and Rob Barnes Band gig guides for all up to date confirmed gigs. All enquiries to info@cold-flame.co.uk.
Jethro Tull tribute Shows Last month saw Cold Flame return to performing full scale Tull tribute shows. Feedback from the punters at The Forum Arts Centre in Darlington was tremendous and bodes well for future plans. Meantime the band and crew are busy preparing for further tribute shows through the rest of this year and beyond. The next Jethro Tull tribute show is at The Yardbirds Club in Grimsby, North East Lincolnshire www.myspace.com/yardbirdsrockclub on Friday July 13th with local support act The Wha. Advance tickets are now available from the venue. Doors open at 8pm. Further Tull shows have already been confirmed with several more in the pipeline. Check out the gig guide for all updates.
Band Photographs Having amassed some cracking photos this year of the band both live and on location on the Derbyshire moors, the website gallery is set for a complete revamp. Stay tuned as the CF crew are currently hard at work putting things together.
Janus - Gravedigger Album to be remastered As many of you will know drummer Keith was an original member of Janus the prog rock band who signed with Harvest in the early 1970's and recorded the seminal album Gravedigger in 1972. The album went gold and for a number of years performed across Europe releasing more studio albums before hanging up their boots. Several brief reappearences have been made by the band over the years including a short period in 1997 with the rythmn section of Keith and Patrick together with guitarist and main man Colin Orr, singers Paul Phoenix and Natalie Brown, guitarist Paul May, keyboard player Chas Duncan[Cold Flame's keys player on the Stormcloud album] and cello player Sandy Bartei. Work in the studio was enough to create a brand new album, "Agnus Dei 2000", which was picked up by a major European label, Arcade Music, who released it in November 1998, with genuine support through TV advertising and a first class video for the title track from the album. This album sold in the thousands, and was released in countries as diverse as Taiwan and Portugal. A single from this album made the Canadian charts. Now in June 2012 comes the breaking news that EMI have now acquired the original master tapes and will be releasing a brand new remastered version of the Gravedigger album with additional bonus tracks. Work is currently ongoing and Keith is already looking forward to the royalties he never received in the first place.
Jenny becomes a Star In 2004, Cold Flame released the album Sports in Perfect Harmony. This involved members of the band working with students from a local Derbyshire secondary school to release a fund raising album. One of the students involved in this project was singer Jennifer Caldwell. We are very pleased to inform you that Jennifer, having forged a professional career as a singer and dancer, has just landed a lead part in the smash West End hit Mamma Mia. We wish her well.
Be seeing you..Cold Flame July 2012.
---
News - April 2012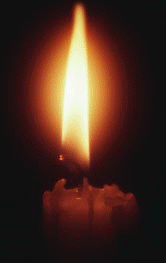 Curved Air gig April 20th
Brought to you by Music in Progress & The Gig Cartel Organization, groundbreaking British progressive rock band Curved Air, featuring original members Sonja Kristina on vocals, Florian Pilkington-Miksa on drums as well as Ian Anderson Band ex guitarist Kit Morgan are currently on a European concert hall and festival tour and will be headlining The Waterside Arts Centre, Sale, Greater Manchester on Friday April 20th. The six piece band will be performing their greatest hits including 'Back Street Luv', 'It happened Today', 'Vivaldi', 'Marie Antoinette', 'Phantasmagoria' and 'Ever dance' Special guests are of course Cold Flame and the word on the grapevine is that tickets have been selling like hot cakes such has been the interest. There are still a few advance tickets available at www.watersideartscentre.co.uk but do please hurry. Doors open at 7pm with Cold Flame on stage at 7.30pm.
The Rob Barnes Band Anyone checking out other parts of the website recently might have been confused by a radical new development at Flame HQ. As of May 2012, Cold Flame will in effect become two separate band entities. Whilst the band will continue to perform their blend of original rocking blues, folk rock and acoustic music as well as Jethro Tull tribute shows as Cold Flame, additional concerts will be marketed in a different guise. In recognition of changing trends in both social and economic norms over the last two years, the Flame have performed regular concerts in smaller venues where set lists mainly comprise of rock and blues covers material highlighting some of the great bands of the 1960's and 1970's right up to some modern pieces. These shows represent a shift away from what Cold Flame have always been about ie the performance of original music. This has now resulted in the creation of a new splinter band to be known as The Rob Barnes Band. Guitarist Rob will be joined by various members of Cold Flame alongside special guests who will perform a setlist of popular rock and blues covers. The Cold Flame gig guide page has now been updated to reflect these changes which has resulted in two separate gig guides...check out the links. As always confirmed shows will be posted asap. Any questions please email info@cold-flame.co.uk
Joe joins Cold Flame Following the departure of pianist Tim Mottershead from the ranks of Cold Flame earlier this year to pursue other interests in music, recent advertising has proved successful as we welcome on board keyboard player Joe Orban as a fully fledged member of Cold Flame. Whilst Joe plays a number of instruments, he specializes in all manner of keyboards and will be featured in up and coming Jethro Tull tribute shows in particular. See gig guide for more details. Joe is an experienced musician with an impressive track record in tribute bands and theatrical shows. He has toured extensively in the UK and Europe with various original rock and cover bands over the last few years and is a busy session musician in his hometown of Blackpool. He has been a stalwart of bands such as AC/BC, U-zu, Pulse, and the Rex Roman Pink Floyd show which starred at Edinburgh Festival in 2009. As well as recording credits with acclaimed space rock band Earthling Society, he also appears on the 2011 Christmas Children in Need charity release by Blackpool Sandaid - 'We've still got Christmas'. In late 2011 he joined the long running Deep Purple tribute Band 24 Carat Purple and continues to perform and record locally on the Fylde Coast with 60's feel good band Happy Daize. 2012 is shaping up to once again be a very busy year for Joe with tracks already laid down towards Earthling Society's 7th album for release later in the year, and the founding of the female fronted band SHE/ROX. As a Jethro Tull fan of many years standing, he is delighted to have been invited to join Cold Flame for selected Jethro Tull tribute shows throughout 2012 and beyond. It goes without saying that the band are delighted to have Joe in the ranks and look forward to his input both on and off the field of play. Do please be nice to him dear punters.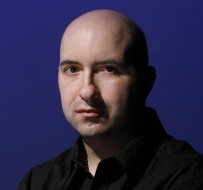 Cold Flame Tull tribute gigs The five piece band are currently rehearsing a new stage show which will include a theatrical element in addition to some classic Jethro Tull material spanning the decades. The band will be recording some studio material which will include some additional visual filming. The band's Jethro Tull tribute dates will be posted on the Cold Flame gig guide as soon as they are confirmed with promoters/venues and will be coded in red. All enquiries and suggestions relating to gigs/bookings etc please email info@cold-flame.co.uk and check out you tube links as below.
YouTube As mentioned in the Feb 2012 news installment, Cold Flame now enjoy a moderate presence on You tube with both official and unofficial vids available. Apologies for some distortion from a couple of gigs due to faulty recording mics not the volume of the band. New for this month includes an official release of Peter performing Minstrel in the Gallery and Cold Wind to Valhalla in the CF studio. Check out You tube links here. www.youtube.com/user/coldflametullband66/videos www.youtube.com/user/ColdFlameUK/videos
Cold Flame to perform rare home town gig Twelve months on from the band.s last home town appearance, Cold Flame return for an all too rare live appearance in Glossop, Derbyshire on Sunday May 6th. The concert takes place at Fauvel Road Recreation ground in the centre of the town. It starts at 1pm and continues through to 6pm.There will be a support act on stage at 2pm whilst Cold Flame headline at 3pm. Please note that this is a special fundraising outdoor concert in aid of two young girls who live in the town who suffer from a very rare genetic disease called 'Cutis Laxa'. The Carroll sisters will need regular medical support throughout their lives so this event is certainly worthy of mention. The band are coming together with a number of other local organizations and businesses in what promises to be a very special fund raising occasion for all the family. In addition to Cold Flame there will be several displays including martial arts teams, climbing clubs, dance groups. Food and drink will be well catered for with Howard Town Brewery supplying the beverages whilst there will be a barbeque and hog roast. A Tug of War competition, children's rides, bucking bronco, ice cream vans and a visit from the Mayor guarantee that there will be all the fun of the Fair with a coming together of all the community. Let us pray for fine weather to help swell the fund for what is an extremely worthwhile cause. Any questions relating to this event please contact info@cold-flame.co.uk or check out local press for additional details.
Be seeing you. Cold Flame HQ
---
News - February 2012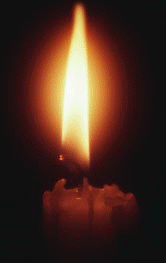 A new year always brings new ideas and opportunities which is probably just as well as the weather, man flu and the current global economy permeated bundles of grey across the festive period. Never mind, 2012 sees Cold Flame back on the road in all their varied guises with a positive mindset. There are several new updates on the website so do check out all sections please as the band have been working hard over Christmas and New Year to bring you all the latest news from HQ. Don't forget thanks to the members of our hardworking crew you can now keep in touch with Cold Flame on both twitter and facebook.
Gigs
Check out all the latest gigs for 2012. As you will note on the band's gig guide one of the highlights to look forward to in the next couple of months will see the band teaming up with legendary 1970's prog rockers Curved Air on Friday April 20th at The Waterside Arts Centre, Sale, Greater Manchester. The current Curved Air line up still features original members Sonja Kristina on vocals and Florian Pilkington-Miksa on drums... definitely a gig not to be missed. Advance tickets now available at www.watersideartscentre.co.uk. It is advisable to check gig guide changes on a regular basis as new dates are confirmed and/or details changed. Please note the new colour scheme which denotes the different shows on offer throughout this year. Full scale Jethro Tull tribute shows will feature again after a two year absence during 2012 with multi instrumentalist Pete Cheetham once more at the helm with polished flutes a plenty. When Pete is not available Mark Parkinson will bring his selection of flutes to the stage. Rock and blues gigs will vary in format to include both original and covers material determined both by the venues/audiences. Acoustic gigs will also feature subject to availability and opportunity as will private function events. Anyone wanting to book the band and/or suggest venues that might be suitable please email using the Contact page information.
Cold Flame on Youtube
Busy activity over the Christmas period sifting through the net now sees working links to several new and revamped Cold Flame you tube moments. These videos will be added to as and when appropriate. Pages can be accessed as follows...
Cold Flame Tull tribute page - www.youtube.com/user/coldflametullband66/videos
Cold Flame studio & live recordings - www.youtube.com/user/ColdFlameUK/videos
Fundraising
The latest fundraising effort took place just before Christmas when the band played an acoustic concert at The Jubilee in Simmondley, Derbyshire. The band would like to take this opportunity of thanking the packed audience for not only coming along to support the event but in helping to raise the grand total of £360 which was then donated to Willow Wood Hospice. Set in a tranquil and leafy location in Ashton-under-Lyne, Tameside, Willow Wood is a purpose-built Hospice providing specialist Palliative Care to those suffering with life-threatening illnesses. The Hospice is a place of warmth and comfort set in a homely environment which is often a relief to those who have spent months - sometimes years - in and out of hospital. Cold Flame are proud to support the vital work that occurs on a daily basis benefitting local people in High Peak and Tameside. For more details contact www.willowwood.info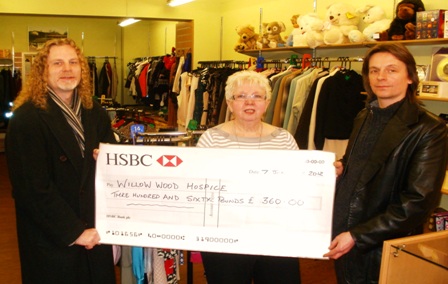 Rob and Vince hand over the cheque to Willow Wood Shop manager Diane McClackland
Tim Mottershead
After a three year stint with Cold Flame as keys player primarily when performing Jethro Tull related sets, Tim has decided to leave the band this month to pursue his main interest in piano tuition and solo concert recitals. We wish Tim well in his endeavours which can be checked out at www.timmottersheadpiano.co.uk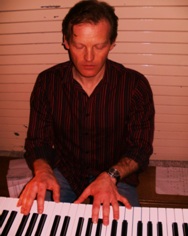 Keyboard player Wanted
With Tim electing to leave the band, Cold Flame are now looking for a keyboard player who is interested in performing with the band on a number of selected indoor and outdoor gigs this year performing the music of Jethro Tull. There are a number of gigs already booked with more dates to come. These gigs are mainly in the north of England and most will be advertised as Jethro Tull tribute shows with an emphasis on presenting a quality show of both acoustic and electric Tull material. Anyone interested in this opportunity would need to have good gear and transport, be reliable, enthusiastic and be able to play to a good standard. Some experience of performing live would be helpful. The band has their own rehearsal studio based in Stockport, Cheshire. Email info@cold-flame.co.uk for further details.
The Shop
As always the Shop has been updated to include all Cold Flame products currently available from the band. We hope to have some new products available very soon. Contact the band directly via this website for all enquiries.
Be seeing you... Cold Flame HQ Feb 2012
---
Features
Weyfest
The Tull Connection 2012
My Space (Alternative Website)
Rhythm & Greens
Punch & Judy
Diary Archives

Archived News
September 2011
September 2010
Spring 2010
Summer 2009
Autumn 2008
Summer 2008
Spring 2008
Winter 2007
June 2007
Dec 2006
Oct 2006
July 2006
April 2006
March 2006
February 2006
October 2005
May 2005
February 2005
September 2004
June 2004
March 2004
Jan 2004
November 2003
October 2003
July 2003
March 2003
January 2003
November 2002


---
This site is hosted by Vision Internet Ltd