News - JANUARY 2018
Welcome one and all to the first instalment of a new year in the company of Cold Flame, who, despite rumours to the contrary, continue to tread the boards whenever time allows in a continually busy modern world. So..without further ado...strap on your harnesses,light the candles, throw caution to the wind, take a deep breath and read on - there's lots to tell.
Thoughts from the Heart - the new single.
Following several months of Cold Flame studio activity with sound engineer Neil Scales in the recording studio the band released a single just before the end of last year. Given the chaos that inevitably occurs around the festive season what better way to start the new year rolling than by re-promoting this worthy edition to the Cold Flame catalogue. The song entitled 'Thoughts from the Heart' was recorded at Starring Studios in Littleborough, Lancashire with the help of Neil who previously worked with the band on the 2016 acoustic album release 'One Man's Wood'. In style the feel is quite commercial and strongly upbeat helped along by a driving rhythm and a catchy repetitive guitar riff in a blues rock tempo. Having recorded a demo of the song over twelve months ago, returning to the recording studio a few months later allowed for some further fine tuning as is often the case with studio work. In addition to writing and arranging the song, Pat sings and play bass guitar with band members Rob and Phil supplying the electric guitars and drums respectively. Check out this link to download the song now available on ITunes, Apple and Amazon. https://itunes.apple.com/gb/album/thoughts-from-the-heart-single/1315638154 More information soon on other brand new electric material that has been recently rehearsed and recorded by the band at Starring Studios. A brand new studio album from Cold Flame is coming along this year.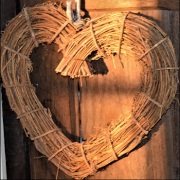 New Gig Guide Page for 2018
The gig guide page has undergone a revamp and now includes a retrospective section covering the band's activities both live and in the studio over the last four years. OK we could have covered more years from the past but hey life is too short ! The new gig guide covers all the latest confirmed shows being performed by the band in 2018. These include electric, acoustic and Jethro Tull tribute concerts. Additional information on all these events will be posted on face book and other music/social websites throughout the year as appropriate.
Jethro Tull and beyond
A New Day yesterday but an old day now... 50 years on and Ian Anderson will be celebrating, taking his band and his flute on a World Tour that begins in March in Denmark. Entitled 'The Jethro Tull 50th anniversary Tour' an eight venue UK tour take place in early April culminating in a show at The Royal Albert Hall in London and further news on Ian Anderson and Jethro Tull can be accessed at http://www.jethrotull.com Not to be outdone, guitarist Martin Barre will also be touring Tull music as well as his own across Europe and the USA. More at www.martinbarre.com Cold Flame will also be joining in these celebrations with several full band Jethro Tull tribute shows taking place in March. See the gig guide for more details but here are three posters advertising the band's tribute shows. Get your tickets in advance by contacting the venues and via face book links. Further Tull tributes have already been confirmed for later in the year with other shows in the pipeline. Promoters interested in booking the band's Tull tribute show please email info@cold-flame.co.uk or patflame@yahoo.co.uk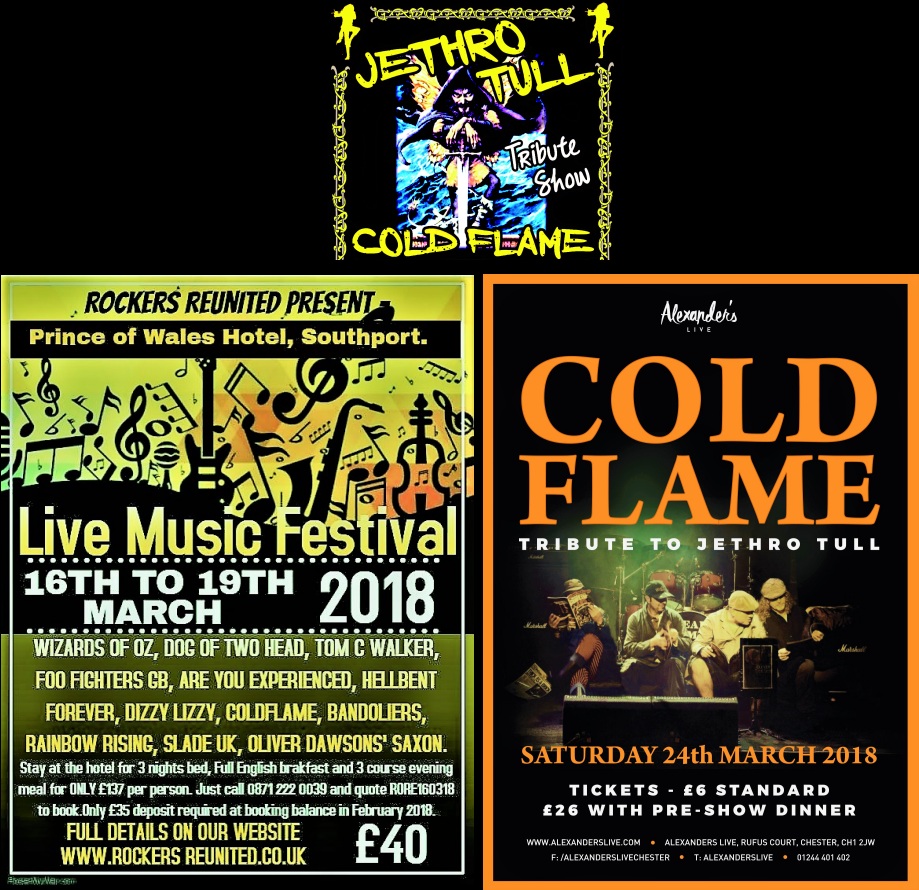 Extra -Curricular Activities
During the last eighteen months, several members of the band have been involved in music projects outside of Cold Flame. In fact almost every member of the current line up can be seen and heard making music elsewhere when time permits. Here is a short summary of extra curricular activities currently ongoing with some band members starting with keyboardist Joe Orban who keeps himself busy seven days a week with that many music projects on top of his day job that to keep up with all he is doing would be a page in its own right. You can keep tabs on Joe's activities via FaceBook. Look out for his up and coming Deep Purple tribute shows.
Drummer Phil Marke has been featured several times over the last twelve months as a 'singer' with the Cheshire Fire Choir which he now manages raising money for several very deserving charities. A busy non drum schedule has seen Phil complete a short US tour culminating in shows at Ground Zero and Carnegie Hall, performing with pop singer Leonie Lewis for a Christmas TV special and playing several stately homes and cathedral venues across England. Check out https://www.facebook.com/phil.marke.5
Keyboard player / piano accordionist Adam Hutchins is another band musician who is in big demand in a variety of roles as conductor, composer, freelance musician and teacher. Check out Adam's efforts at http://adamhutchins.com
Finally band main man Pat Rowbottom has been working with Italian prog rock band O.A.K in Rome and has also done a radio show with the band's leader 'Jerry Cutillo'.. A brand new progressive rock double album from O.A.K entitled 'Giordano Bruno' is set for release worldwide in February 2018 in both vinyl and CD formats and Pat has contributed the lyrics to two songs as well as playing bass guitar on two further songs. More info at https://www.facebook.com/jerrycutillo In April 2018, Pat will be teaming up with Cheltenham based acoustic blues artist Ged Wilson and undertaking a French tour. More info http://www.gedwilson.com The duo will be performing mainly original blues songs written by both Ged and Pat but will also include some surprises as well.
Facebook
The Cold Flame FaceBook presence altered last year causing some confusion in the process. Things have now settled down again.Here is a reminder of the three separate sites that currently focus on Cold Flame activities. There is now a brand new 'LIKE' page which you can access by following this link - https://www.facebook.com/ColdFlameBluesUK. We also have two further pages at https://www.facebook.com/cold.flame.925 and an acoustic page - https://www.facebook.com/coldflame.acoustic. Our thanks to James Peters, Ben Rossington and Dave Forward for their support in keeping everything ship shape on all website pages.
Be seeing you....Cold Flame HQ Jan 2018.
---
Features
Weyfest
The Tull Connection 2012
My Space (Alternative Website)
Rhythm & Greens
Punch & Judy
Diary Archives

Archived News
2017
2016
2015
2014
2013
2012
September 2011
September 2010
Spring 2010
Summer 2009
Autumn 2008
Summer 2008
Spring 2008
Winter 2007
June 2007
Dec 2006
Oct 2006
July 2006
April 2006
March 2006
February 2006
October 2005
May 2005
February 2005
September 2004
June 2004
March 2004
Jan 2004
November 2003
October 2003
July 2003
March 2003
January 2003
November 2002


---
This site is hosted by Vision Internet Ltd