News - September 2015
Celebrating thirty one years as a live and studio band in 2015, Cold Flame release a new studio album on Tuesday September 1st. The album entitled 'A Stitch in Time' features brand new extended versions of some of the band's classic original blues and prog folk rock music featuring almost every member within the current band line up.Included on the album are a number of alternative versions of these songs.
'A Stitch in Time' was initially recorded on locations in both Lancashire and Derbyshire and then mixed, edited and mastered at Audio Masterworks Studios in Glossop, Derbyshire by studio engineer Paul Walster during Autumn 2014 and Spring 2015. More recently, the band commissioned Cumbrian artist Sue Llewellyn to come up with a suitable design that embodies some of the lyrics and ideas within the album. The result is a piece entitled 'The Dream'.
Cold Flame will be performing a number of tracks from the new album live during their Autumn touring schedule which begins at the end of August and features appearances at Colne Blues Festival on Saturday August 29 and Stafford Blues Festival on Saturday September 5. For all the latest news on gigs and the new album, check out the band gig guide on this site as well as www.facebook.com/coldflameuk
For more details on album content check out the albums section on the website. The album is now available from the band at all gigs and you can also order the album online by visiting the Shop page at www.coldflame.com. If you are interested in knowing more about the band or want to book the group for a private or public function email info@cold-flame.co.uk.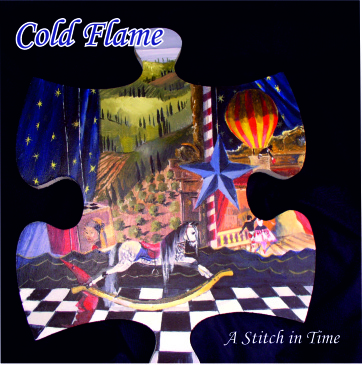 ---
News - May 2015
Breaking news from the band. As mentioned in a previous news page, Cold Flame are set to release new studio / live albums over the next few months which follows members of the band spending several months on and off in a number of recording studios in the north west of England. Expect further studio recordings to be released this year so expect further news updates. Additionally the band have updated the gig guide with the news of several festival and showcase events taking place this summer. Keep up to date with all news weekly on the band's face book sites. News also of a new addition to the band in the shape of Adam Hutchins on keyboards and piano accordion.
Cold Flame - Live at The Witchwood
In 2014 Cold Flame celebrated 30 years as a live and studio band. Keen to mark the event some way or other, time was spent checking out a number of dusty, ageing mixing desk live recordings taken over the years in a variety of venues with a view to some kind of special release. Cold Flame - Live at The Witchwood represents a double album of live blues rock material recorded at the renowned Witchwood Club in Ashton Under Lyne, Lancashire. Featured on the album are several tracks from the band's first two studio albums - On Thin Ice and Stormcloud - as well as some previously unreleased original material and cover versions of a few stage favourites. Musically the sound is familiar blues rock territory with a focus on guitars. A year later and the band had added flutes, violins and keyboards to the overall sound in moving towards prog folk rock whilst still retaining their blues rock background. Taken direct from mixing desk recordings and carefully edited earlier this year at Tiny Studios in Hyde, Cheshire by studio engineer Ian Burke, the recordings cover a period in the mid 1990s when the band regularly headlined the prestigious Tameside venue. As such the sound is raw, punchy and energetic with only the occasional edit necessary mainly due to tape decay. Further information on this release has been posted in the albums section. Release date is Monday May 25th. All enquiries to info@cold-flame.co.uk or the band's face book sites.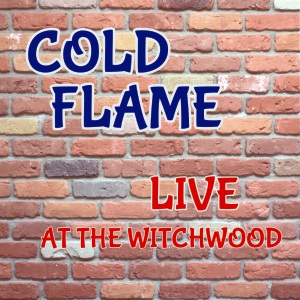 Cold Flame perform the music of Jethro Tull - Goosnargh & Whittingham Social Club, Preston Lancashire - Sat May 16th 2015
The band are pleased to announce their latest Jethro Tull tribute show in May in the north west of England featuring the five piece line up. The band will headline a concert promoted by Neil Haigh n Moonshooter Promotions performing the classic prog rock music of Tull on Saturday May 16 @ Goosnargh - Whittingham Social Club near Preston in Lancashire. Doors open at 8pm with the band performing a two hour set of classic Tull material with a few surprises thrown in as well. Contact the venue @ www.whittinghamclub.com Whittingham, Preston PR3 2JE phone 01772 865339 tickets are now available priced at £4 to prebook or same price on the door.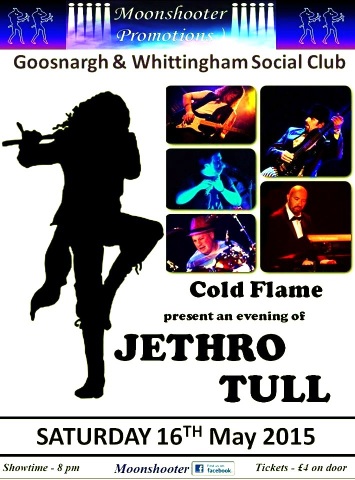 Cold Flame to play Winsterfest 2015 - May 22/25th
Following on from last year's strong performance at Winsterfest, the band have been rebooked this year to perform at Winsterfest 4. Packed with some of the best rock and tribute acts around with Cold Flame performing a classic rock/ blues set on the Sunday afternoon..May 24th. This is will be the 4th Winsterfest Festival and it just gets bigger and better every time.A beautiful relaxed site in the Peak District on the outskirts of the village of Winster at The Miners Standard DE4 2DR. The very best in live music for three days, real ale, good food, camping, showers and toilets on site.Tickets cost £35 for the whole weekend...including free camping/caravaning. More details @ www.rockersreunited.webs.com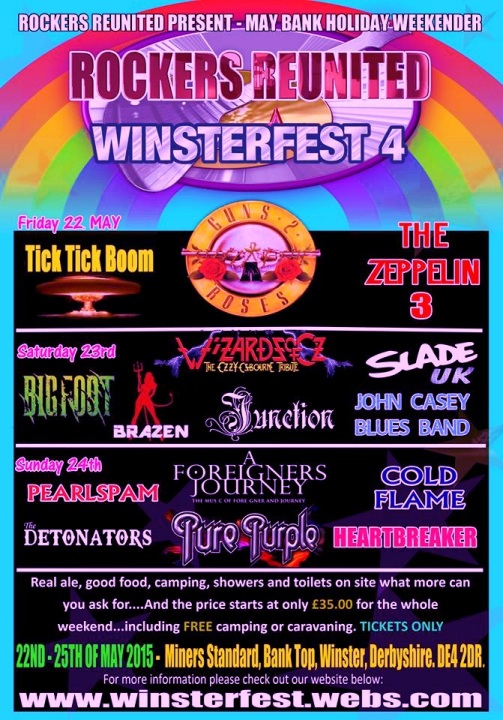 Cold Flame live in Barcelona, Spain June 27th 2015
Cold Flame have been invited to take part in the 13th Spanish Jethro Tull Convention which takes place on Saturday June 27th in Barcelona, Spain. In addition to the band, there are sets from Take Three featuring ex Tull and current Fairport Convention drummer Gerry Conway, with ex John Martyn bassist Alan Thompson now a member of the Martin Barre Band and Jackie McShee [Pentangle] on vocals. Martin Allcock who has also been a member of Tull and Fairport in his time will also be performing a set with guitarist Jerry Curtillo who is the leader of Italian Tull tribute band Oak. Further 'name' guests are expected to be added to this bill. More details @ www.facebook.com/groups/45268608735/?ref=ts&fref=ts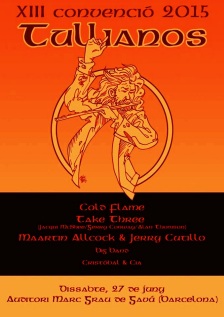 Adam Hutchins - piano, organ, piano accordion
Recently the band has been working in the studio with locally based and highly talented keyboard player Adam Hutchins. Despite being very busy with other projects, Adam has enjoyed being involved with the chaps and has decided to remain with the band for the foreseeable future. Adam will be joining Cold Flame for selected electric and acoustic concerts during the next few months. Please do make him welcome. Adam has his own extensive website at http://adamhutchins.com/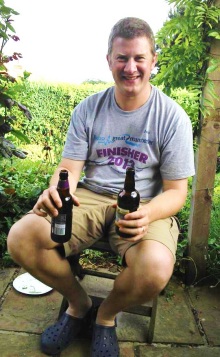 Be seeing you...Cold Flame May 2015

---
News - March 2015
Last year Cold Flame celebrated their 30th year as a live and studio band performing original blues, rock, prog and folk rock not forgetting the band's Jethro Tull tribute performances. Quite a credible effort in the circumstances given shifts in modern social trends. Not everything went to plan but enough highlights last year included some premier music festival appearances at Colne International Blues Festival British Stage headliners, Weyfest and Winsterfest, trips to Europe playing France and Greece, as well as releasing the well received and critically acclaimed studio album Blue Shadows. It was also the year the band finally parted company with flautist Peter Cheetham who left for pastures new having been involved with the band for more than sixteen years. The end of the year saw Cold Flame back in the studio looking forward to new releases in the future. Band members have come and gone over the years yet the determination to remain intact and honest remains for me a key factor in maintaining Cold Flame music today. Not quite sure where the time has gone since 1984 but for those of you who have followed the band through thick and thin, I would like to pass on my personal thanks and appreciation for being there and showing interest, support and enthusiasm for the music of Cold Flame.
Live shows
Check out the band gig guide for all the latest confirmed dates which will feature all the regular band members. This is regularly updated as new gigs are confirmed. As with previous years, live performances in 2015 will include both electric and acoustic concerts as well as several electric and acoustic Jethro Tull tribute shows. Several music festivals are already confirmed with more to be added. Weekly posts on the band's face book pages keep you informed of all the latest news. Anyone interested in booking or promoting the band please get in touch via info@cold-flame.co.uk or you can message the band on facebook.
New Cold Flame albums for 2015
Having released one studio album last year entitled Blue Shadows, there are even bigger album plans for 2015. Cold Flame have been involved in studio recordings working on a number of different projects in no less than three separate recording studios in the north west of England. This has been ongoing effort since late summer 2014. Most of this new material features original blues rock and prog music with a few choice covers thrown in for good measure. Whilst this work remains ongoing, I can reveal that some of this material is now ready for final mastering with a view to release fairly soon. Watch this space for updates on new album releases..
Jethro Tull tribute shows 2015
Encouraged by a number of special shows dedicated to the acoustic music of Jethro Tull featuring Chorley based flautist Mark Parkinson, the band have decided to return to performing electric Cold Flame tribute shows performing the music of Jethro Tull. Mark will continue in his flute role joining the current tribute band line up. Further 'best of acoustic Jethro Tull' shows are being planned at the moment. Several festival bookings for the electric Jethro Tull show are already confirmed and these will be posted on the gig guide. The band's first two electric Tull shows of 2015 took place recently in Preston and at The Southport Rock Festival. A jolly good time was had by all. Check out www.facebook.com/coldflameuk for photographs from these events. Amongst new dates now confirmed, Cold Flame are honoured to be invited to perform at the 13th Spanish Jethro Tull Convention which takes place in Barcelona, Spain in June. Cold Flame will be joined by a number of ex Tull musicians including Martin Allcock, Gerry Conway and Dee Palmer as well as members of Martin Barre's current touring band including bassist Alan Thompson. Jacquie McShee from Pentangle is another confirmed artist. For more details check out www.tullianos.com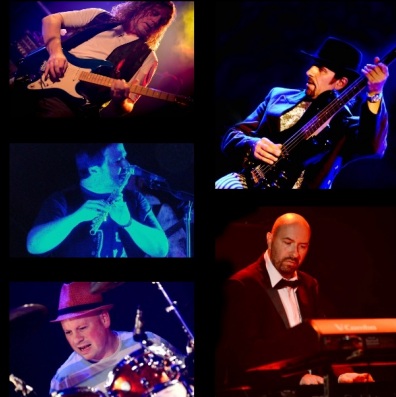 Cold Flame T shirts
Cold Flame Promotions have teamed up with local Derbyshire based printing company Glossop Screenprint to design the new 2015 official Cold Flame t shirt with the logo 30 years Still burning the blues. You can order your very own in any colour you fancy @ www.glossopscreenprint.co.uk or phone 07908384675.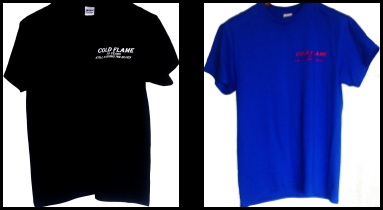 Be seeing you...PR March 2015
---
Features
Weyfest
The Tull Connection 2012
My Space (Alternative Website)
Rhythm & Greens
Punch & Judy
Diary Archives

Archived News
2014
2013
2012
September 2011
September 2010
Spring 2010
Summer 2009
Autumn 2008
Summer 2008
Spring 2008
Winter 2007
June 2007
Dec 2006
Oct 2006
July 2006
April 2006
March 2006
February 2006
October 2005
May 2005
February 2005
September 2004
June 2004
March 2004
Jan 2004
November 2003
October 2003
July 2003
March 2003
January 2003
November 2002


---
This site is hosted by Vision Internet Ltd