News - September 2017
In the blink of an eye with summer slowly receding, the band has reconvened from their varied family breaks to discover a fair bit of confusion at HQ. A timely news update therefore would seem appropriate to avoid any further confusion caused by events well beyond band control.
Facebook
For the last few years Cold Flame have had two separate sites on face book. An electric site - www.facebook.com/cold.flame.925 and an acoustic site - https://www.facebook.com/coldflame.acoustic Unfortunately face book removed the electric site recently and in order to retrieve it, the band have now personalised the site using Ben Rossington as the name for this page. However we are pleased to announce that there is now a brand new 'LIKE' page for Cold Flame. Follow this link - https://www.facebook.com/ColdFlameBluesUK or you can find it via the Ben R face book site.
Gig Guide
Several electric and acoustic events scheduled for the band from late summer onwards have either been postponed or cancelled reflecting the very fickle and volatile nature of the current music scene here in the UK. We can but apologise for the disappointment this may cause which we share also. The band would like to state categorically however that such gig changes have not been created by the band at all. All current confirmed bookings are now listed on the gig guide page found elsewhere on the website.
Lligwy Beach - Jethro Tull Tribute Show
On Saturday August 26th, the band performed the acoustic music of Jethro Tull in a special tribute show in Anglesey at the very beautiful location of Lligwy Beach. Additional original and traditional material was added to the show which was watched by a crowd of hundreds - some of whom had travelled from Derbyshire and Greater Manchester to see the band. A great gig thoroughly enjoyed by the organisers, audience and band members alike. You can now check out gig photos and links on the band's two face book sites as well as https://www.facebook.com/lligwybeachcafe
Pat's health
'The show must go on'... A couple of weeks ago, band leader Pat suffered some fairly serious injuries following a fall from a ladder whilst cutting down trees. The realisation that he is no longer Peter Pan has now sunk in and he thanks those fans of the band who have contacted him directly wishing him well. Pat is currently making progress, strapped up and on meds but taking things easy. All gigs currently listed over the next couple of weeks will be honoured but some dates planned for late September have now been postponed.
New releases
It is not all bad news. September sees the release of a new digital version of the Stormcloud album. The album was originally released in 1999 and featured eleven original progressive blues rock tracks as well as a cover of the blues song 'Summertime' written by George Gershwin. In fact for a short time the band were signed to EMI as a result of the success of this album. For more details on the original album see the relevant section on our albums page. The new download version on ITunes/ Apple will however include two previously unreleased songs and some additional material that did not make it on to the original release. The new downloadable version will be made available on the band site as well as other internet outlets.
Hope to see you soon....Cold Flame Sept 2017
---
News - May 2017
With the band back on the road once more following their 'having fun with the blues tour' in March, there is a great opportunity to see the band on the big stage over the next few weeks/months performing both electric and acoustic shows featuring either the music of Jethro Tull or the band's original and traditional eclectic mix of blues and progressive folk rock. Several warm up gigs for these shows as well so do keep in touch with band activities through our face book pages, Ents 24 and the official gig guide found elsewhere at www.coldflame.com where you will also find start times for each gig. Here are some of the highlights coming up...
ROYAL WELSH AGRICULTURAL SPRING FAIR, BUILTH WELLS - Sat May 20/Sun May 21
The band are appearing on the Sunday afternoon at this prestigious annual event in Builth Wells, Wales. The two day show takes place in the main Showground on the edge of town attracting thousands. Members of the band will be performing an acoustic set which will feature the music of Jethro Tull as well as some other stage favourites. For more information including ticket details www.rwas.wales/spring-festival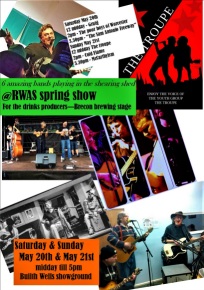 STAFFSFEST - Fri May 26/ Sat May 27/ Sun May 28
A real honour to be invited back again to this year's StaffFest as one of the main headliners. Cold Flame will be performing a Jethro Tull tribute show at this year's 3 day festival on the Saturday evening. Three days of great music with over 20 bands on an established festival site in the Midlands. For more details http://staffsfest.co.uk. The band will be warming up for this show with a gig near Stockport at The Woodley Arms in Woodley on Saturday May 20th where you will be able to hear a full set of Jethro Tull songs.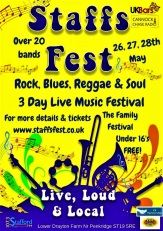 FRANCE/ SPAIN - JUNE 2017
Cold Flame in Europe. Pat is teaming up with special guest musicians Jerry Cutillo and Francesco De Renzi from the Italian progressive rock band OAK to perform acoustic shows in France in June this year. The only confirmed date so far is Hotel Le Manoir in Bazouges La Perouse, Brittany on Friday June 23rd http://www.facebook.com/lemanoirbazouges. Stay tuned for further updates.The trio will be performing the acoustic music of Jethro Tull together with some new original material. Earlier in the month, Pat will be in Spain at the Tullianos Convention in Barcelona on Saturday June 10th.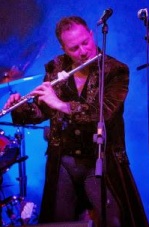 Jerry Cutillo
LINGWY BEACH - ANGLESEY - Sat Aug 26
Another one not to miss. A special acoustic performance by the band featuring the music of Jethro Tull and additional original and traditional songs. The concert takes place by the beach in the scenic location of Lyngwiny Beach in Anglesey on Saturday evening from 6pm onwards. http://www.facebook.com/lligwybeachcafe
S'METTLE FEST - Fri Aug 25/ Sat Aug 27/ Sun Aug 28
August Bank Holiday weekend. Why not take in the 3 day Settle Mettle Festival in Settle, Yorkshire. Cold Flame are performing a Jethro Tull tribute special featuring some of the heavier material from the Tull repertoire. The band's performance is on the Sunday afternoon. Tickets and more details http://www.facebook.com/SMettlefest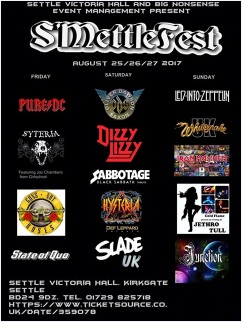 Be seeing you..Cold Flame May 2017
---
News - February 2017
Welcome one and all and thank you for visiting the official Cold Flame website. Bringing you all up to date, there are some changes and updates which have been posted around the site for those of you who like to see such things. Dive in and take a stroll. Another year and new opportunities both for you and your favourite aunt to come along and enjoy the band as the chaps perform a number of electric and acoustic shows with selected Jethro Tull tributes shows also featured. Some live shows have been confirmed from March onwards with some additional concerts already planned for 2018. The diary is always open, several shows in the pipeline with all newly confirmed gigs will be posted on the website gig guide straight away. The material this year will feature mainly original music taken from the band's existing album back catalogue together with a few new songs more of which later in this news letter. Additionally, there will be a number of crowd pleasing covers and some trad just to keep everyone, band included, on their toes. Band personnel remains intact though there will be some shows where guitarist Rob will not be available in the short term owing to day job responsibilities so we are indebted to both David Conner and Joe Orban who are busy even as we speak dusting down their favourite six string guitars ready for the green light. Speaking of Joe we wish him well as he travels the length and breath of the country with his trusty keys as part of Lioness - The Amy Winehouse tribute in a lengthy tour over a six week period. More info here
Click here for the latest band press release.
Album Links
Last year the band released the acoustic blues and folk rock album 'One Man's Wood'. We have had some great feedback from this album release and like the previous electric studio album 'A Stitch in Time' released in 2015, the album is now available on I Tunes, Amazon and Spotify as well as directly from the band. See links below..
A New Album
Over the last two years, when time allowed, various members of the band have once again been busy in the recording studio initially in Audio Masterworks in Glossop, Derbyshire and more recently in Starring Studios in Littleborough with the help of experienced sound engineers Paul Walster and Neil Scales. The support of these two guys has been once again proved invaluable in developing a music project which is perhaps the most ambitious for many years for Cold Flame. It might have taken 33 years but finally the band are working on a concept album. A group of brand new original songs with a clear theme throughout. An eclectic mix of progressive folk rock and blues. All the material has been written and refined and mixing and mastering is now in full flow. Further updates on this project will be posted here when appropriate.
T Shirts
For those of you interested in a new fashion accessory this year, look no further than local Derbyshire based printing company Glossop Screenprint who are selling Cold Flame t shirts in a variety of colours and sizes. To order contact the firm on 07908384675 or follow this link - http://www.glossopscreenprint.co.uk
A new year - a poignant time perhaps to reflect not just on the good times enjoyed as a live and studio band but also to reflect on absent friends and musicians alike who collectively we have had the good fortune to meet and to know along the way. But.. where would we be without an audience ? On behalf of every member of Cold Flame, I would like to thank you all for taking time out to support the band through thick and thin knowing full well that without your support, things would be much less interesting. Stay in touch, keep in good health and we look forward to seeing you all somewhere very soon
Wishing you a happy and healthy 2017...... PR January 2017

---
Features
Weyfest
The Tull Connection 2012
My Space (Alternative Website)
Rhythm & Greens
Punch & Judy
Diary Archives

Archived News
2016
2015
2014
2013
2012
September 2011
September 2010
Spring 2010
Summer 2009
Autumn 2008
Summer 2008
Spring 2008
Winter 2007
June 2007
Dec 2006
Oct 2006
July 2006
April 2006
March 2006
February 2006
October 2005
May 2005
February 2005
September 2004
June 2004
March 2004
Jan 2004
November 2003
October 2003
July 2003
March 2003
January 2003
November 2002


---
This site is hosted by Vision Internet Ltd