News - JULY 2013
With the temperature in England.s green and pleasant land warming up at last, thoughts are already moving towards summer family holidays and a time when several members of the band take time out to recuperate and rest. As with previous years, this year has seen the band gigging with regularity in all its varied line ups performing mainly in the north of England and the Midlands. Most of these shows have been electric shows featuring the band.s original blues rock music but there have been a number of Jethro Tull tributes as well as a sprinkling of acoustic concerts. All current bookings for the rest of the year are now posted on the official gig guide and will be updated as new bookings are confirmed. Cold Flame concerts will also be posted on a variety of other regional and national websites as well as the band.s face book sites. The band would like to thank the following radio stations for their continuing interest in the music of Cold Flame.Radio Trent, South Wales Radio, Radio Seagull and High Peak Radio. Any questions or comments on the band or should you be interested in booking the band in the future please email info@cold-flame.co.uk.
Festival Dates
Due to circumstances beyond the band's control [mainly Council planning and finance backing], several planned festival appearances for this summer including The Limelight and Spirit of the Marsh festivals will not now be taking place due to said Festivals being postponed until the summer of 2014. There is some good news. Cold Flame will be performing at several regional festival during the next few weeks including The Eccles Rock Fest, Manchester [27/7/13] Radio Trent.s Riverside Country & Blues Festival, Nottingham [4/8/13] White Lion Beer Fest, Disley [23/8/13] and Darlington R n B Festival [ 15/9/13] For more details on all these events check out www.facebook.com/coldflameuk as well as links on the gig guide.
Jethro Tull Tribute Shows
As promised, editor Dave Rees featured the band in the latest edition of the Jethro Tull worldwide fanzine A NEW DAY. More details at www.anewdaymag.co.uk. June has seen the five piece Tull tribute line up in action again with shows in Blackpool and Bolton and some terrific audience feedback. July sees the band performing further tribute concerts at The Yardbirds Rock Club, Grimsby, North Humberside, The Robin 2, Bilston, West Midlands and Eccles RockFest in Manchester. The band will also be performing a mix of Jethro Tull and original music at Ashfield WMC, Barnsley, South Yorkshire. Check the gig guide and face book for more information. There are a number of confirmed Tull tribute shows this Autumn. For all updates, check the gig guide and face book for more information.
Cold Flame in Poland
Many of the band's fans will remember lead guitarist Simon Dowling who was a full time member of Cold Flame for a number of years until work commitments in Poland took over though he has played with the band on a couple of occasions since. Simon continues to reside in Poland and has maintained his interest in the guitar, live performance and the music of Cold Flame. Patrick is now teaming up with Simon at the end of July to perform some Cold Flame dates in Poland.see the gig guide.
<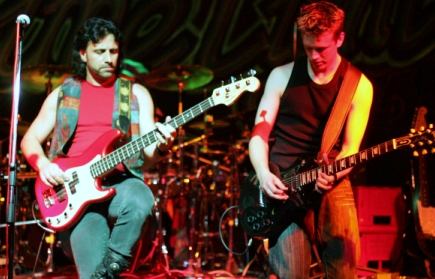 BJ.s Blues Club Review - June 2013
Those nice people at the Lancashire Blues Archive came along to review the band recently when Cold Flame headlined BJs Blues Club in Chorley. As one of the best blues clubs in the north of England, this was a date that had been eagerly anticipated by band and audience alike for some time and certainly seeing a packed venue well before the band took the stage displayed not just the interest in the band but also how well the Club is run by Lucas Campbell and his team. Read on for the review..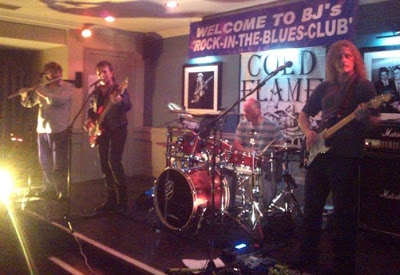 It was a welcome return of this class band to BJ.s after nearly two years. Originally formed by Patrick Rowbottom, on bass/vocals; the line-up tonight was Rob Barnes on vocals/lead guitar, Phil Barnes on drums with guest musician Mark Parkinson on flute. They played a great mix of blues and rock and also included some self penned works. Some of the influences of Ian Anderson.s Jethro Tull showed through and they also paid tribute to blues masters John Mayall and Peter Green.s Fleetwood Mac and played a great version of .Oh Well.. It was an excellent set and playing to a packed crowd the atmosphere was buzzing. All are well seasoned musicians, and demonstrated a professionalism that only comes from time served. They received a well deserved rowdy encore and it is hoped they will return BJ.s next year.
ROSY GREER (Words and pic)
Lancashire Blues Archive
Charity Concerts
Cold Flame continues to demonstrate their commitment to supporting those less fortunate than themselves. Packed venues and great reviews have greeted the band in recent concerts in the High Peak to raise money for special causes. These successful shows included fund raising for Glossop & Tameside MS Society and Macmillan Nurses/Cancer Research.
Be seeing you down the road..Cold Flame July 2013.
---
News - January 2013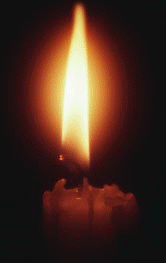 Welcome Back and Happy New Year to all our friends. Having taken a proper Christmas break for once, it is now business as usual at Cold Flame HQ..
Tour dates 2013
All the latest confirmed concerts and festival dates booked for Cold Flame including Jethro Tull tribute shows and The Rob Barnes Band are now posted on the new 2013 gig guide here on the official website. In addition Cold Flame dates have now also been posted on a number of regional and national gig guides including Ents 24 where you can also find a potted history of the band, photos and several mp3's of the band's original music. Further dates will be posted as new bookings are confirmed. Following the success of last year's Cold Flame Jethro Tull tribute concerts, the band are pleased to announce further tribute shows for this year featuring the band's five piece tribute line up. Material performed will include many Tull favourites as well as a number of lesser known tunes and stage antics. Rehearsals are currently ongoing in preparation for these shows - the first of which is on Saturday January 26th at The Moses Gate music venue, Bolton in Lancashire. Check out the venue website for further details www.mosesgate.co.uk
Subscribers to the international Jethro Tull fanzine A NEW DAY will be interested to learn that Cold Flame will be featured in the next edition of the magazine to be printed early Spring. Additional information relating to all Cold Flame gigs can be found on the band's face book and twitter pages whilst information relating specifically to the band's links with Jethro Tull can be found at jethrotull.proboards.com
Live Recording
This month Cold Flame are pleased to announce that they are teaming up with north west recording studios Stage Side Productions based in Rochdale who will be recording an entire live concert for possible future album release. The recording company who are based in Rochdale offer quality state of the art 32 track mobile and studio recording, production and editing and can be reached at www.stage-side.co.uk. Having worked with the experienced team, the band are happy to recommend Stage Side Promotions to anyone thinking of capturing their live or studio sound. More news on this project soon.
Christmas Concert Dec 2012
Just before the festive break, Cold Flame performed a Christmas acoustic concert in Glossop, Derbyshire. The event was organised to raise money for The Alzheimer's Society. As a result of the band's efforts, £335 was raised in the fight to find a lasting cure for dementia. The band would like to take this opportunity in thanking their home town fans and friends for their support and generosity in making the night both an enjoyable and successful finale to the year.
Radio Airplay
In the words of a famous supermarket chain 'every little helps'. For many years, the band has received support and occasional airplay on a number of local radio stations most especially High Peak Radio, Mansfield Radio and Chorley FM. During the last few weeks however, several regional English radio stations have also 'discovered the band' and as a result, the band has enjoyed considerable radio coverage of their original music leading to much positive feedback both from DJ's and punters alike. These radio stations have included Radio Trent and Radio South Wales. Band leader Patrick even did a twenty minute phone interview with DJ Dan James on Radio South Wales just before Christmas. BBC Radio Leeds are now set to feature the band's acoustic music as part of their folk coverage having given rave reviews for the most recent Flame studio release 'The Acoustic Collection'.
Band Merchandise
Band marketing has undergone a revamp and it has been decided to reduce prices for all Cold Flame products currently available from the band as from January 2013. Albums, posters etc are all available - see the new Shop page here on the website.
Band photos and You Tube
Having amassed some cracking photos during the last few months of the band both live on stage as well as on location on the Derbyshire moors, the website gallery has now been completely updated. The band face book pages which are now being run by our good friend James Peters has also provided an opportunity for new photos of the various band line ups and gigs to be displayed for all to see. Praise and thanks are due to a number of photographers who have captured the band in vatrious guises during the last few months including Amanda Carter, Peter Gates, John Samuel and Mike Prendergast. The band would also like to thank Colin and Val Shaw for their tremendous support throughout last year and their contribution to Cold Flame You Tube moments. Surfing You Tube will certainly provide many opportunities to check out audience vids of Cold Flame and The Rob Barnes Band in live action.
Janus - Remastered Gravedigger Album
As many of you will know Cold Flame band member Keith Bonthrone was an original member of Janus the prog rock band who signed with Harvest in the early 1970's and recorded the album Gravedigger in 1972. The album went gold and for a number of years Janus performed across Europe releasing a couple of further studio albums before hanging up their boots. Several brief reappearances have been made by the band over the years including a short period in 1997 with the Cold Flame rhythm section of Keith and Patrick together with guitarist and main man Colin Orr, singers Paul Phoenix and Natalie Brown, guitarist Paul May, keyboard player Chas Duncan [Cold Flame's keys player on the Stormcloud album] Dean Houston on sax and cello player Sandy Bartei. Work in the studio was enough to create a brand new album, "Agnus Dei 2000", which was picked up by a major European label, Arcade Music, who released it in November 1998, with genuine support through TV advertising and a first class video for the title track from the album. This album sold in the thousands, and was released in countries as diverse as Taiwan and Portugal. A single from this album made the Canadian charts. EMI acquired the original master tapes last year and this has now led to the official release of a brand new remastered version of the Gravedigger album with additional bonus tracks. As a testament of the band's niche in prog rock circles, Record Collector magazine has a big feature on Janus and the remastered album in this month.s edition.
And Finally...
2013 sees Cold Flame enter its twenty ninth year as a live and studio act. This is no mean achievement in the often fickle world that we live in today and despite many hiccups along the way the band are still burning the blues. It is therefore perhaps a poignant time to reflect on the good times we have had over the years as purveyors of quality rocking blues, folk rock and acoustic music. It is also perhaps a time to reflect on absent friends and musicians alike who we have had the good fortune to meet along the way. Finally where would we be without an audience. Cold Flame would like to take this opportunity of thanking friends and fans alike who continue to show an interest in the band and the music. Do keep in touch with all band news here at www.coldflame.com as well as on the band's face book and twitter pages.
Be seeing you... Cold Flame January 2013.
---
Features
Weyfest
The Tull Connection 2012
My Space (Alternative Website)
Rhythm & Greens
Punch & Judy
Diary Archives

Archived News
2012
September 2011
September 2010
Spring 2010
Summer 2009
Autumn 2008
Summer 2008
Spring 2008
Winter 2007
June 2007
Dec 2006
Oct 2006
July 2006
April 2006
March 2006
February 2006
October 2005
May 2005
February 2005
September 2004
June 2004
March 2004
Jan 2004
November 2003
October 2003
July 2003
March 2003
January 2003
November 2002


---
This site is hosted by Vision Internet Ltd