News - December 2021
Almost at the end of another year and regrettably one that has again proved a real challenge to one and all. With the pandemic continuing to influence events and people across the world, it has remained very challenging from a music perspective to plan anything regarding live performance which is of course a great disappointment to the band especially as several events have once again needed to be postponed or cancelled. Some good news - some live concerts did take place both in England and in France and fingers are crossed that 2022 will provide a more positive outlook and the opportunity to plan further concerts. In the meantime, the diary is open on either side of the Channel and the band welcome all enquiries for public and private events in the future. Contact via Facebook at https://www.facebook.com/coldflamebluesuk or alternatively, Pat can be contacted at patflame@yahoo.co.uk.
November concerts
Amazingly despite restrictions/issues surrounding live performance, Cold Flame were able to play five shows during November... two in the north of England including a Jethro Tull tribute show at Southport Rock Festival, as well as three shows in northern France later in the month. All of these shows proved to be well attended and well received. With the concerning news that virus variants are continuing to spread across Europe, the likelihood of any further live shows this year would seem remote. Should any last minute additional concerts be booked during December, these dates will be posted on the band gig guide as well as various additional national gig guides and social media. In the meantime, some photos from the band's Jethro Tull tribute show at the Southport Rock Festival have now been posted on the band's official Facebook page.
New Anniversary studio album
Following several weeks of intense studio activity, Yorkshire based Starring Records, in conjunction with Cold Flame are proud to announce a new anniversary digital release of the Cold Flame studio album 'Still Burning the Blues'. Originally released in 2002 featuring a selection of original blues rock songs, the new expanded version of the album is subtitled - 'Old Veins New Blood'... a direct reference to the changes in band personnel experienced during the early recording sessions and prior to the original release of this album. Spotify - Still Burning the Blues "Old Veins New Blood Edition"
The album is released worldwide on Wednesday December 1st initially as a streaming version with the digital download coming a week later. It will also be available on all other regular digital distributors including Apple, Amazon, Deezer etc... Features on the new release are a new front cover image as well as the addition of five previously unreleased studio tracks all taken from the same time frame using the same band line up. A new commentary on both the original album and the new anniversary edition has been written up on the band website as well as commentaries on every single song on the latest edition. See the Albums section for these updates.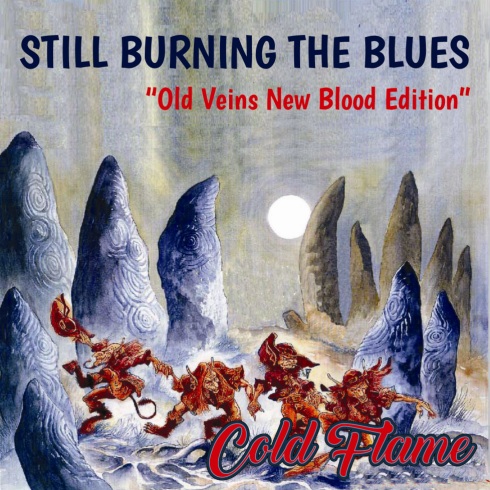 Cosmetic changes
A number of website updates and modifications have been put in place in recent weeks in helping to enhance band promotion and communication. This includes the official new Cold Flame flyer, upgrades on various band links, and band backdrops.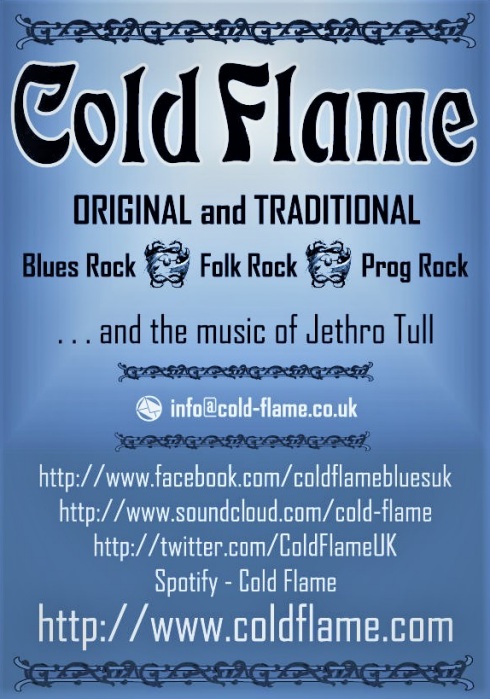 The band would like to take this opportunity to thank everyone who has supported Cold Flame during the year , especially on social media. We hope that all our friends remain in good form throughout the winter ready to reconvene in what we hope will be happier times in 2022. Till then stay safe, look after each other and try and remain positive.
Cold Flame HQ December 2021
---
News - June 2021
Time flies and here we are already into June and, as yet, still no live performance. With this year continuing to pose more questions than answers, here is the band's latest news which reveals at least some good news albeit with hopefully further good news updates to come by the end of the summer.
New album release this month
In 2011 Cold Flame released the studio album 'The Acoustic Collection'. As the title would suggest , the album gathered together a number of acoustic recordings undertaken over a three year period highlighting the band's original acoustic folk, blues and folk rock music. Some earlier material recorded ten years previously was remastered and added to the project. Musicians involved in these recordings included the regular acoustic line up of Paul, Pat, Rob and Vince as well as several previous members of the band most notably multi instrumentalist and song writer David Simpson as well as guitarist Simon Dowling and flautist/whistle player Ben Dalglish. Many of the songs on this album still remain popular with audiences today and continue to appear in the band's acoustic line up concerts. With 2021 being the 10th anniversary of this album, members of the band have been working recently with studio engineer Neil Scales at Starring Studios in Yorkshire to acknowledge this anniversary by releasing a new digital download version of 'The Acoustic Collection'.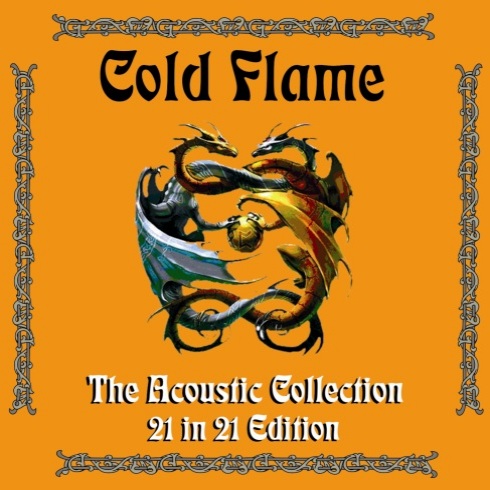 The new digital edition of the album is entitled 'The Acoustic Collection - 21 in 21 Edition. It is being released by Starring Records worldwide via Ditto.Fm, Spotify, Apple and other international outlets on Saturday June 5th. Follow this link to access the album.
The 2021 version of the album features newly remastered versions of all the songs found on the original album as well as the addition of three previously unreleased original acoustic songs. 'Time waits for no one' written by Rob Barnes as well as two songs from Pat Rowbottom - 'The Farmer and the Crow' and 'Two Left Feet'. All remastering was undertaken by Neil Scales. Additionally, the album cover has been redesigned to reflect the new album title and several promotional posts have been presented recently on social media to highlight the album release. Sadly, two musicians who are featured on 'The Acoustic Collection' have passed away in recent years so it is only fitting and appropriate that the new version of this album is dedicated to the memories of David Simpson and Ben Dalglish.
Further information on the new digital release has now posted in the Albums section on this site as well as short dedications on both David and Ben. Information is also currently posted on the band's official face book page https://www.facebook.com/coldflamebluesuk to coincide with the June release date.
Live performances - maybe ?
The band would like to thank the many well wishes who have been recently sending messages of support and encouragement. In such challenging times, this means a lot to everyone connected with Cold Flame. As you will all be aware, restrictions are slowly being removed by the government as the overall threat of the coronavirus pandemic in the UK recedes though the recent Delta variant clearly underlines that difficulties remain. The picture in mainland Europe is also moving in the right direction but at a much slower pace. Despite some headlines about some limited live music events taking place, a lot of venues have yet to make their minds up about whether live music is currently viable or not. The current govt thinking around opening up everything on June 21st may well be delayed. Inevitably, for music venues hit by necessary closures over the last twelve months, common sense economics is a real impediment to live music planning. Some venues for the moment remain firmly closed whilst other places look likely to operate a ticket/pay on the door set up with limited numbers. Based on this as well as band health concerns, continuing restrictions etc, the prospect of CF gigs before late August remains slim. Contact is now being re-established with a number of the band's regular venues and it is hoped that this will bring with it new confirmed concerts for this year. Anyone wanting to get in touch about potential new booking possibilities can contact the band on Facebook or at info@cold-flame.co.uk The good news is that two Jethro Tull tribute shows are now confirmed in Southport, Merseyside and Preston, Lancashire this Autumn with a further tribute show confirmed for February 2022 in Blackburn, Lancashire. We recommend checking band websites regularly for updates. As with all events, once confirmed, concerts will be listed on the band and venue gig guides, ents 24 and various other regional gig guides. The band will also post concert details at https://www.facebook.com/coldflamebluesuk.
Despite the unpredictability of current circumstances, the band are very happy to consider future booking possibilities and invite enquiries from all quarters regarding tribute and/or original music shows in both electric and acoustic formats. Contact the band at patflame@yahoo.co.uk or info@cold-flame.co.uk.
Stay safe everyone and let's keep music live when we can...Cold Flame June 2021
---
News - FEBRUARY 2021
It has been a very long time but the band hope that you all remain in good spirits. We have added a photo of some members of the band just for those of you who might have forgotten what we look like - at least on a good day. This time last year, the band looked forward to some carefully planned touring schedules, new opportunities, new venues, new friends, old friends, new songs...another typical year really. As everyone now knows only too well, life was about to undergo a radical transformation which would have devastating effects across the world. Despite the best efforts of world health organisations in securing vaccine programs ready for roll out, the number of people losing their lives or being reduced by the virus to a shadow of their former selves has been devastating. The daily mortality figures are truly shocking. Hardly surprising then as the months passed and challenges continued, that live music has become impossible to organise in the UK and elsewhere. The Covid 19 pandemic certainly changed the way we all live our daily lives. Trying to predict what may or may not be possible during the next few months, is something no one can say at the moment. One can but hope that through a combination of successful vaccines, following all the health advice given and a recognition that govt restrictions are in place to save lives, there may be a time later on in the year when things can begin to return to some kind of normality for all. The band remain thankfully in good health but as things currently stand, it is not feasible to meet up for the time being and live and studio work remain on hold. There is some news however so in keeping you all informed, read on.......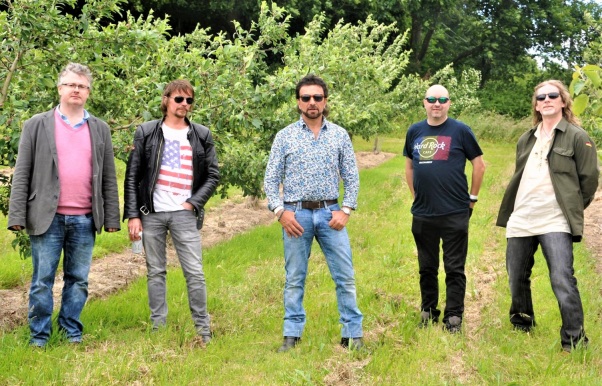 Cold Flame Website
As always at the start of a new year, the last few days have been spent at Cold Flame HQ, making a few changes to content, adding new references and descriptions as well as providing new press releases. A couple of new photos as well so plenty to peruse and all the various links checked to see that everything is working correctly. Due to current circumstances, the band expect to include more news items as the months pass by.
Cold Flame Gig guide
Last year's gig guide which has now been archived highlighted a lot of cancelled gigs due to the pandemic. This inevitably affected additional provisional engagements as well. The band last played live in the UK in late March 2020 whilst Pat played a series of additional concerts with the French line up of the band in northern France. This was also curtailed at the end of August. The diary is now open for 2021 and beyond with the new gig guide 2021 now posted on the website. Due to current circumstances, it is difficult to predict when Cold Flame will return to live action so the only confirmed dates listed so far take place in Autumn 2021 and these concerts will feature the band performing the music of Jethro Tull. However, the band welcome all enquiries for future work and are hoping that the situation becomes more positive by mid summer. As per usual, all confirmed concerts will be listed on the gig guide and advertised on social media and national gig forums. We would therefore encourage all enquiries from agents and promoters regarding future opportunities.
Cold Flame sign deal with Starring Records
During the last few years, the band have been working with independent recording studio Starring Studios run by sound engineer Neil Scales. This connection has resulted in the release of recent studio albums 'One Man's Wood and 'Waiting for God' as well as download versions of these albums. With the relocation of the studios to West Yorkshire last year, Neil and his team have expanded operations creating the subsidiary company Starring Records which specialises in rock orientated music mainly from the north of England. Clients already include Crazy Snake Rebellion, Free Believer, Rubella, The Wilde, Paul Holt and North. February 2021 now sees Cold Flame joining the roster as the band have signed a new record deal with Starring Records for an initial two album deal. In addition, Starring Records are taking over the entire Cold Flame back catalogue. This will enable the company to release new remixed download versions of several past albums. There are no firm release dates as yet but it is expected that at least two archive albums will be released later this year. Once dates and details are confirmed, announcements will be made here and on social media. The Starring Records website is currently being upgraded but you can read up on the independent record company at https://www.starringrecords.co.uk
Cold Flame new single
As part of the 'new recording deal' with Yorkshire based Starring Records, the band previewed a brand new remastered version of the original song 'Thoughts from the Heart' engineered by Neil Scales just before Christmas which received airplay on several regional and national radio stations. With restrictions/ lockdowns occurring over the Christmas period, it was decided to postpone the single's official release till the new year. The single, which is a remastered slightly longer version of the original song, featuring band members Pat, Rob and Phil is now being relaunched on Sunday February 14th though for the time being at least, it will only be available as a download version. Play loud and enjoy at https://open.spotify.com/album/5x2M8Ys36bOXRr9rCnflL4?si=XB5OYujXS4eybGFZu-DMIg
Music Petition
And finally here is a request which though having some political focus, has no real party allegiance - just a hope that common sense will prevail. It is universally recognised and accepted that music is positive therapy for the heart, mind and soul. In these very sad and challenging times, listening to music and singing or playing an instrument can do wonders to make one feel better - shining some light in a dark and troubled world. Some of you might have picked up on fairly recent remarks made in November 2020 by the Chancellor of the Exchequer - Rishi Sunak regarding the music business. He suggested that musicians should stop complaining about not working and instead And finally here is a request which though having some political focus, has no real party allegiance - just a hope that common sense will prevail. It is universally recognised and accepted that music is positive therapy for the heart, mind and soul. In these very sad and challenging times, listening to music and singing or playing an instrument can do wonders to make one feel better - shining some light in a dark and troubled world. Some of you might have picked up on fairly recent remarks made in November 2020 by the Chancellor of the Exchequer - Rishi Sunak regarding the music business. He suggested that musicians should stop complaining about not working and instead retrain in other fields. Anyone involved in any way with the music business will be well aware how surprisingly lacking in empathy and support the govt has been during the pandemic. The govt are suggesting they want to encourage music across Europe and yet it is they and not the EU who are currently ruling out any visa free opportunity on the grounds that they do not want to allow European wide musicians to tour around the UK. This naturally has an inevitable knock on effect on UK musicians performing abroad. Every member of the current Cold Flame band line up has had the opportunity to perform in various countries in Europe in recent years either with Cold Flame and/or in other music projects. Such experiences have provided never forgotten highlights, long lasting memories and new friends from different countries. With the ongoing pandemic continuing to cause problems across the world, it is inevitable that music and the arts are finding things seriously tough. Despite the roll out of various vaccines, it is clear that it will take several months at least before live music will return. The inevitable conclusion of current circumstances is that musicians are under threat at all levels and that current govt thinking sees music and musicians as a very very low priority. On behalf of all musicians , please consider signing the following petition which one hopes will at least enable Parliament to discuss the plight of touring musicians and the music business in general with a modicum of gravitas. Feel free to share and discuss with like minded family and friends. Petition: Seek Europe-wide Visa-free work permit for Touring professionals and Artists
Wishing everyone as happy, healthy, safe and successful year as can be possible. We hope to see you soon somewhere along the road. Thank you all for your continuing interest and support. ......Cold Flame Feb 2021.
---
Archived News
2020
2019
2018
2017
2016
2015
2014
2013
2012

---
This site is hosted by Vision Internet Ltd