Albums - The Radio Archives
---
The Radio Archives(2008)

Taxi night blues
First time blues
Another day gone
Wee wee baby
We used to know
Count me out
Aint no sunshine
Shaking all over
Bring it on home
Rhythm and greens
Summertime
Born under a bad sign
Cold feet
Living is for loving
Gods
PRM 2008 CFR CD9
| | | |
| --- | --- | --- |
| Musicians | Pat Rowbottom | vocals, bass guitar |
| | Peter Cheetham | flute, tenor sax |
| | Danial Hall | electric & acoustic guitars |
| | Keith Bonthrone | vocals, drums |
| | Chas Duncan | piano, organ and synths |
All songs Pat Rowbottom except 1- C.Duncan: 5 - I.Anderson: 7- B.Withers: 8 -J.Kidd: 9- W.Dixon: 11 G.Gershwin: 12/13 - A.King: 15 - S.Vai: All arrangements PR.
Recorded live in several local Derbyshire and Cheshire radio stations during 1998 for radio broadcast . Retrospectively brought together and mixed in February 2008 on the Cold Flame mobile by Peter Cheetham and Pat Rowbottom. Final editing conducted by the band in late February / early March 2008 . Album design influenced by the original Guy Fawkes and fellow conspirators woodcut engraving by Crispijn de Passe the Elder.
Background to this album
Cold Flame released their seventh studio album 'The Radio Archives' in March 2008. It was actually a retrospective album as the material and line up reflected the band's sound from ten years previously and featured studio recordings undertaken in a number of Derbyshire and Cheshire local radio stations for regional radio broadcast. This material had been stored on tapes for a number of years at Cold Flame HQ but a chance conversation with ex members of the band, then led to relocating these tapes. Pat and Peter who had worked together the previous year to mix and edit the 'Live up the Pool' live double album again agreed to work together on what became the band's next album release 'The Radio Archives'. Musically ... a collection of previously unreleased acoustic and electric original blues and popular blues/ r'n' b covers material. Several songs from the Stormcloud album are featured on this album as well as a number of light blues popular covers.
The album 'The Radio Archives' is available via the band website Shop.
Chas Duncan - musician
'The Radio Archives' album is dedicated to the memory of Derbyshire pianist Chas Duncan. In fact the first song on the album is a Chas Duncan composition - 'Taxi night blues. In 1997, Chas played alongside two Cold Flame musicians - Pat [ bass guitar] and Keith[ drums] in the European prog rock cult band Janus. At Pat's invitation, this led to Chas making live and studio guest appearances with Cold Flame from 1998 until 2002 where he contributed piano, hammond organ and synthesizers. In the studio with the band, Chas appears on the albums Stormcloud [1999] and Still Burning the Blues[ 2002] as well as 'The Radio Archives'. Following his stint with Cold Flame , he then concentrated on cabaret and jazz events for a number of years and remained a good friend of the band throughout. Chas was taken ill in early summer 2007 on his way to a wedding event and suffered a fatal heart attack. A talented musician,a really nice guy, a reliable friend and a true stalwart of the north Derbyshire music scene - Rest in peace.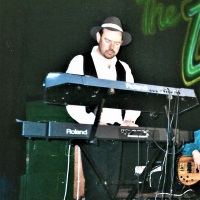 ---
This site is hosted by Vision Internet Ltd. Maintained by Shipnet.co.uk