with special thanks to guest musicians - Guy Smith - tenor sax [ tracks 4,8] Jon Peacock - trumpet [ track 3] Jo Bircher - alto sax [ track 3] Neil Scales - additional drums/percussion[ tracks 1,4.5] synth, strings & keyboards - [tracks 1,4,5,8] acoustic & electric guitar [ tracks 4,6] mandolin[tracks 4,6]
All music/lyrics written and arranged by Pat Rowbottom c and p 2023
Recorded, mixed and mastered at Starring Studios, Todmorden, Lancashire, England.
Sound Engineer - Neil Scales
Album artwork - Malcolm Thomas
Duplication - Trades Duplication Ltd, Cheltenham, Gloucestershire England
Design and Formatting - Pat Rowbottom Produced by Pat Rowbottom - 2023

Four years to the day since the release of the last Cold Flame studio album 'Waiting for God' and the band are back in conjunction with Yorkshire, England based, Starring Records to release a brand new studio album worldwide entitled 'A Circus in Paradise'. In fact, the new album, the band's 16th, which is being released on Wednesday 1st February 2023, would have been released much sooner had it not been for the unexpected events brought about by the Covid pandemic. Given the government led restrictions on mixing and travel together with general concerns during an ongoing health crisis, the process in which the album evolved was radically different to that on previous album sessions, reliant as much on sharing music files, emails and Facebook messenger as actual studio visits. This situation inevitably led to delays and alterations in the recording process. Whilst most members of the band were involved in this latest project, the challenges in bringing everyone together and/or working from home utilising modern technology was such that in the end it proved too difficult to involve everyone within the band. Cold Flame are indebted to sound engineer Neil Scales at Starring Studios for not only bringing all the recordings together and mixing and mastering the songs but also for his additional instrumental contributions on several songs as well as those contributions made by brass players - Guy Smith, Jon Peacock and Jo Bircher.
'A Circus in Paradise' is a progressive rock concept album which touches on several dark themes, from an observational standpoint, enveloping mankind in the 21st century. Whilst there is a lyrical focus on global politics, world health, warfare and sacrifice, the overall theme that binds these ideas together is climate change and the destructive impact that this is already having on mankind and the world we live in. The album marks a radical change from the usual blues-based material normally associated with the band's music and instead incorporates elements of rock, jazz, folk and eastern music linked tightly within a progressive rock framework. Many of the songs are extended pieces with various musical changes occurring throughout. Though the mood is generally quite dark as would be expected, there are several passages throughout the album that are deliberately lighter and hopeful. 'A Circus in Paradise ' features nine brand new original songs all written by the band frontman Pat Rowbottom. There will be two official versions of the album released this year. The cd version of 'A Circus in Paradise', released by Starring Records, can be purchased by accessing the Cold Flame Shop @ coldflame.com and will also be sold at all Cold Flame shows. Visit the Cold Flame Shop.
For those of you who prefer to download and stream your music, an expanded download version of the album again released by Starring Records is released on March 30, 2023. This version features a further five previously unreleased songs written by Pat but not included on the original album. The download version is now available from all the usual outlets including Amazon, Apple, iTunes, Deezer and Spotify.
The album sessions took place over a two year period before some fine tuning in the summer of 2022 at Starring Studios in Todmorden Yorkshire. Mixing and Mastering took place during October. The album Artwork was designed by artist Mal Thomas based on lyrical themes taken from the album. CD Duplication was handled by Trades Duplication Ltd based in Cheltenham Gloucestershire and completed in November 2022.
A Circus in Paradise is available direct from the band from Wednesday February 1st via the Cold Flame Shop as well as via the band's Facebook page and will also be available at all future Cold Flame shows.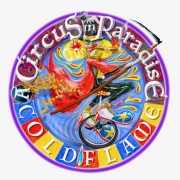 A CIRCUS IN PARADISE - The videos
Two new videos are being released in January 2023 to promote 'A Circus in Paradise'. Both videos feature edited music that can be heard on the new album. Video editing was undertaken by Ian Gallagher. Video design by Pat Rowbottom. All music Pat Rowbottom. Performed by Cold Flame.
COLD FLAME - 'Last Flight' - YouTube
COLD FLAME - 'Passport To Oblivion' - YouTube
A CIRCUS IN PARADISE - the press release
For all music reviewers, radio stations and the mildly curious who want to read the full story behind the band's new studio album, an extensive press release has now been put together see link below. For official music reviewers please contact Neil Scales at neil.scales@gmail.com for the official music review files.
Press release - https://starringrecords.co.uk/circus-in-paradise
A CIRCUS IN PARADISE - album reviews
https://www.progradar.org/index.php/2023/03/23/review-cold-flame-a-circus-in-paradise
https://lazland.org/album-reviews-2023/cold-flame-a-circus-in-paradise
A NEW DAY MAGAZINE - Circus Review

PROG CENSOR - French review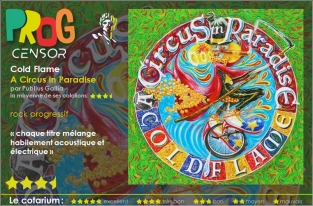 Cold Flame - A CIRCUS IN PARADISE
progressive rock [ Starring Records UK 2023]
Cold Flame are a band formed in 1984 by singer and bassist Pat Rowbottom. The band first played blues/rock in pubs in Greater Manchester. By the mid-90s, keyboards appeared as well as flutes and sax. It was at this time (1997) that the band presented a tribute show to Jethro Tull which has since become a popular part of the band's repertoire seeing Cold Flame perform in many countries across Europe.
This year, the band presents its 16th album....'A Circus in Paradise'. Here, we see a change in direction with no blues; we have a pure product of progressive rock, conceived and interpreted in a masterful way. It is a rich, warm album, with a strong use of woodwinds (flute, saxophone...), percussion and sound effects (storms, waves, bells...), in which each title skilfully mixes acoustic and electric.
The music, even if the flute may remind listeners of Tull, will seek its inspiration in other alternatives such as oriental ("Passport To Oblivion"), hard rock ("The Deep Blue"), Floyd ("The 11th Hour") and folk ("Last Flight") and in a plethora of titles that will resonate in the depths of your memory.
Pat's voice (with a magnificent articulation) definitively establishes the music on the album as an invitation to revisit the 1970s. As a result, even if you have never heard this group, you will feel like you know them well!
If the music smells of nostalgia, the themes are very current: global warming, Brexit, greed, corruption, war in Ukraine...
Undeniably, the experience and professionalism of nearly forty years of career are not for nothing in the quality of this production which in my opinion under an appearance of lightness and ease of listening, reveals a lot of surprises and provokes just as many emotions.
Publius Gallia