COLD FLAME - The Acoustic Collection
CFR CD11 (2011)
---
Cold Flame - The Acoustic Collection

Jiggerypokery
Away in the distance
Angel
Merrily kissed the Quaker
Dreams just fade away
One day without you
Paul's tune
Every mans an island
Sands of Time
The Tinkers Tale/Mayfly and old toad
Oh Laura
Carron Lough Bay
The Huntsman's daughter
Roll back
Falling from grace again
Airs of Argyll
Living is for loving
Elven





Musicians
Patrick Rowbottom
vocals, bass guitar, guitar, synths.
Robert Barnes
vocals, acoustic and electric guitars.
Paul Newland
acoustic and electric violins, mandolin, vocals.
Vince Walton
drums and percussion.
David Simpson
vocals, guitars, piano accordion, piano, synths.
Simon Dowling
acoustic and electric guitars
Ben Dalglish
flute, whistle
Peter Cheetham
flute
Recordings undertaken at Basement Studios, Broadbottom: Shed Studios, Romiley: Home Studio, Mossley and Shipwreck Studios, Glossop. Remixed and remastered at Shipwreck Studios in Glossop, Derbyshire in March / April 2011. All tracks written by Pat Rowbottom except track 4 - John Martyn / track 5 - Rob Barnes / track 7 -Paul Newland / tracks 11, 15, 16 - Davyd Simpson. Engineered by Paul Walster. Produced by Pat Rowbottom.
Background to the album
Having recorded some acoustic songs in 2009 as a three piece nucleus of Pat, Rob and Paul which came out in the same year as the mini album 'Cold Flame Acoustic', band discussion then turned to the idea of recording a full album of acoustic based material. By 2010, Cold Flame seemed to be touring almost all the time with acoustic gigs becoming a regular part of the gig itinerary. During the summer of that year, the band appeared at festivals across the north of England and Midlands on a weekly basis. Finding the time to get together as a band to record outside of this touring schedule proved to be quite quite difficult to organise. A compromise was agreed however by pooling together several different studio sessions already recorded into one new project which would highlight the band's original acoustic music. In all these earlier recording sessions took place in four separate studio settings over a two year period between 2008 and 2010 - Basement Studios, Broadbottom, Cheshire: Shed Studios, Romiley, Cheshire: Shipwreck Studios in Glossop, Derbyshire as well as keyboard player Davyd Simpson's private studio in Mossley, Lancashire. The exception time wise to this recording were those songs recorded at Basement Studios which had been completed several years previously. Instead these particular songs - 'Every Man is an Island' and 'Sands of Time' were re mixed in autumn 2010 .. Bringing the project together for additional recording, mixing and mastering was undertaken by sound engineer Paul Walster at Shipwreck Studios. This took place in the first three months of 2011 and everything was then mastered for cd duplication in April 2011. Entitled rather fittingly in the circumstances, 'The Acoustic Collection' the album became Cold Flame's ninth studio release. It was officially released in May 2011 with the band then promoting the album both on local and regional radio as well as on tour performing several songs associated with this release.
The album 'The Acoustic Collection' is 'available via the band website Shop.
---
Cold Flame - The Acoustic Collection 21 in 21 Edition

Jiggerypokery
Away in the distance
Angel
Merrily kissed the Quaker
Dreams just fade away
One day without you
Paul's tune
Every mans an island
Sands of Time
The Tinkers Tale/Mayfly and old toad
Oh Laura
Carron Lough Bay
The Huntsman's daughter
Roll back
Falling from grace again
Airs of Argyll
Living is for loving
Elven
The Farmer and the Crow [previously unreleased]
Two left feet [previously unreleased]
Time waits for no one [previously unreleased]





Musicians
Patrick Rowbottom
vocals, bass guitar, guitar, synths.
Robert Barnes
vocals, acoustic and electric guitars.
Paul Newland
acoustic and electric violins, mandolin, vocals.
Vince Walton
drums and percussion.
David Simpson
vocals, guitars, piano accordion, piano, synths.
Simon Dowling
acoustic and electric guitars
Ben Dalglish
flute, whistle
Peter Cheetham
flute
Fast forward to 2021 and an opportunity to celebrate the tenth anniversary of The Acoustic Collection by releasing a brand new digital version of the album completely remastered with the addition of three previously unreleased original acoustic tracks. Two of these 'new' songs were written by Pat whilst Rob contributed one of his own compositions. To keep the publishers happy , the new release has been given a slightly different title - The Acoustic Collection 21 in 21 Edition and a revamped cover image. All mastering and remastering was undertaken by sound engineer Neil Scales at West Yorkshire based Starring Studios during April and early May 2021. The album was released worldwide by Starring Records on Saturday June 5th 2021.
The album 'The Acoustic Collection' is 'available at https://ditto.fm/the-acoustic-collection-21-in-21-edition
JIGGERYPOKERY
An almost serious attempt to do the ' fiddly diddly ' green style and more than a passing nod to Jethro Tull . Begun initially in the rehearsal studio - refined and lengthened over time it has become a real crowd pleaser in both rock and acoustic formats over the years. Highly deserving of a remix, the tune introduces the new album splendidly.
AWAY IN THE DISTANCE
Originally written many years ago, Pat first introduced this song about city life prior to the band's headlining appearance at the Vienna Folk Festival in Austria in 2008.Since this time the song has become a very popular part of the acoustic set and due to interest in this tune the chaps now perform an extended version with a brand new third verse.
ANGEL
Stage favourite and popular local radio tune which regularly appears towards the end of an acoustic soiree. First appeared on the Seven Seas album and reflects Pat's thoughts about guardian angels. This is the latest updated and extended version of the song reflecting how the piece has developed as a real tour de force during the last few years featuring soaring dual violin parts.
MERRILY KISSED THE QUAKER
A traditional instrumental tune which crept into the acoustic set some ago and has remained a standard since. Not surprisingly a great favourite with audiences. A nice blend of piano accordion and violin. Tweaked and extended of course by band members to give it that extra appeal.
DREAMS JUST FADE AWAY
An original tune from Rob which highlights the dreams people have and how such ideas often grow but ultimately fade under the influence of alcohol. Another stalwart of the current acoustic set.
ONE DAY WITHOUT YOU
The music of John Martyn is a continuing influence within band ranks and several of John's tunes are currently performed live within the acoustic format. This piece is a good example of one of them with Paul giving it his all on his mandolin.
PAULS TUNE
One of several instrumental pieces featuring the violin performed regularly within the acoustic set and significant as this piece has been written by Paul who lends his name to the title.
EVERY MANS AN ISLAND
Another of Pat's songs from the dim distant past which returned to live sets during the recordings for this album. A song with political overtones reflecting a modern world that is undergoing change. A lament for the loss of many simple positive values in favour of greed, envy and fake news.
SANDS OF TIME
Traditional celtic tune which was a very popular piece in many of the Originally released as the title track of Pat's second album back in 1995. Now remixed for a new outing on this album. Tells the story of a derelict old house by the seaside that eventually one day does get bought, spruced up and lived in.
TINKERS TALE/MAYFLY AND OLD TOAD
Two instrumental pieces for the price of one from Pat. Jethro Tull leanings abound in both tracks which reflect the countryside of yesterday. Peter keeps things busy fluting away in true Ian Anderson style.
OH LAURA
A very personal song from the heart written by Davyd exploring the relationship he had for many years with his daughter Laura.
CARRON LOUGH BAY
Traditional celtic tune which was a very popular piece in many of the band's early acoustic performances. Deserving of a studio release for all kinds of reasons. Arranged by Davyd.
THE HUNTSMANS DAUGHTER
Featuring the talents of ex band flautist and wild front man Ben Daglish on whistles, this folk rock instrumental was played extensively in Tull tribute shows during 2004/2005. This is a remix of the track that appeared on the Sports in Perfect Harmony album during 2004 and highlights just how a whistle can rock.
FALLING FROM GRACE AGAIN
One of Davyd's songs which was originally recorded on the Cold Flame mobile. As with many of his compositions, rather a personal and poignant observation of life as seen through his eyes.
ROLLBACK
Simple little acoustic tune of Pat's with a catchy chorus and a haunting and evocative riff . A song about childhood memories .Growing up at a time when most people took photographs and transferred them onto slides for family get togethers throughout the year especially during dark,cold winter months where the focus always carried to the big wide projector screen . Originally released on the Seven Seas album back in 2003, this is a brand new version of the tune.
AIRS OF ARGYLL
Davyd's take on Scottish/ celtic music resulted in this quirky short instrumental inspired by a friend of the family.
LIVING IS FOR LOVING
Vindaloo folk rock from the band. A blues tune that originally appeared on the On Thin Ice album completely reworked to suit the folk rock approach of the acoustic line up. Despite being toned down a tad it still zooms along at a rate of knots. Simple point being made lyrically . life is too short so get out there and enjoy it.
ELVEN
One of those instrumental pieces that started out as something else and developed in a different direction. Refined in rehearsals by Pat and Peter. Nice way to complete the album.
THE FARMER AND THE CROW
A previously unreleased acoustic song from Pat originally called 'The Crow' which has been re-recorded, mixed and mastered for the digital anniversary edition. A poignant countryside lament about a crow who eats one crop too many and comes to a tragic end at the hands of an irate local farmer.
TWO LEFT FEET
Another of Pat's previously unreleased acoustic songs updated and remixed for the digital anniversary edition. A song about struggling through life solo with only bad luck and trouble for company.
TIME WAITS FOR NO ONE
Rob wrote this song during the recording sessions for 'The Acoustic Collection' and it was played regularly live by the band at the time. A glaring omission from the original album release for no apparent reason, this previously unreleased song now sees the light of day updated and mastered. The final song on the new extended digital version of the album.
David Simpson 1965 - 2010
vocals / piano / organ / guitars / piano accordion and song writer.
With Cold Flame back in the studio working on what would be the new acoustic album in the Autumn of 2009 whilst continuing to play concerts , the band received some very distressing news. Davyd, who had been unwell for several weeks and absent from band activities for a few months, had been diagnosed with pancreatic cancer. Unfortunately his health deteriorated very quickly and,sadly, he died on April 15th 2010 at Willow Wood Hospice in Ashton Under Lyne, Tameside, Lancashire spending the last few months of his life with his wife and close family. He was only 45 yrs old.
Davyd was without doubt one of the most popular musicians ever to perform with Cold Flame - a true character with a strong personality - once met never forgotten. Joining initially as a keyboard player back in 2004, his versatility as a singer / multi instrumentalist together with his endearing camaraderie and quirky eccentricity quickly established him as an essential member of the band. Davyd had spent years playing as a folk musician in the Tameside area of Lancashire and from time to time also performed with a number of local rock and blues bands but it was only when joining the Flame that his love of all kinds of music and particularly the music of Jethro Tull gave him the real opportunity to musically express himself more fully both on and off stage.Tours across England, trips to Italy and performing with ex Tull members Clive Bunker and Mick Abrahams followed though perhaps David's favourite gig was when Anna Phoebe played with the band at Weyfest Festival in September 2008.
On a personal level Davyd was much more than just a member of the band. He was a great friend and support to all band members. As a comic his style was was close to the likes of Harry Enfield and Paul Whitehouse. He often had the band in stitches - who can forget his wig and sailor's hat. 'Jumpers for goalposts' and 'Would Sir like a suit' always seemed to be part of his daily conversation and he rarely needed encouraging in coming out with hilarious and insightful one liners.
Davyd's send off was inevitably packed and though the atmosphere was both emotional and really sad, there was much humour as well in the eulogies given by the priest and family members reflecting on his all too short life. A selection of Davyd's favorite tunes accompanied the service and it was poignant that the Tull song 'Living in the Past' should be the finale. Davyd was always a joker though even the band had little idea that he had no Welsh connection at all so the Welsh spelling of his name and the flag draped over his keyboards was a joke on everyone. Shortly after the extremely long haired David first joined the band he had a very serious haircut. When Pat asked him the reason why, he replied that the week before he had been on a shopping trip to Manchester with his wife Susan when a young boy had suddenly pointed his finger at Davyd and said to his Mum standing nearby .. 'Look there's Ozzy Osbourne'. Had the boy said Ian Anderson perhaps Davyd would not have had that hair cut. It was Davyd who brought the old Tull telephone gag back into the band's stage set and it was at his suggestion that the band played part of The Hare who lost his spectacles' in many Tull tribute shows at the time.
Rest in peace....Davyd.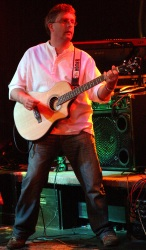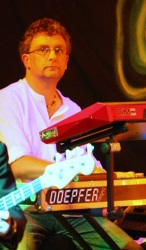 Ben Dalglish 1966-2018
vocals / flute / whistles / acoustic guitar
In 2004, a vacancy arose in Cold Flame ranks for a new front man following the departure of flautist Peter Cheetham. The call was answered by Derbyshire multi-instrumentalist Ben Dalglish who had already established himself in the regional music scene performing in several folk-rock bands most notably 'The Loscoe State Opera'. Ben brought a breath of fresh air and enthusiasm to the band. Highly individual and entertaining, slightly anarchic, a superb musician with a willingness to engage with, and create, new ideas in presenting the band to a live audience. Hardly surprising that Ben very quickly established himself as a very popular member of the band. Ben remained with Cold Flame for two years performing Jethro Tull tribute shows as well as acoustic and electric concerts. In addition, he was involved in several band recording sessions. Some of the songs featuring Ben have since been released as part of the band album catalogue. In September 2006, Ben left the band to refocus on his work with Derbyshire folk rockers LSO whilst also working on a number of music initiatives around the Midlands, touring in professional productions, working with orchestras and running music workshops for children. The one constant thread throughout Ben's life was his endearing love of music and sharing that with everyone he came into contact with. When not performing, Ben worked as a programmer writing network device backup software for network security company Restorepoint.
In 2015, Ben was diagnosed with lung cancer. He died on 1st October 2018 aged 52. Our thoughts are with his wife Sarah, his children, family and friends.
https://en.wikipedia.org/wiki/Ben_Daglish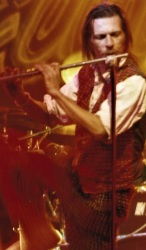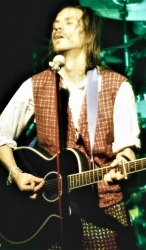 ---
This site is hosted by Vision Internet Services. Maintained by Shipnet.co.uk