Albums - Still Burning The Blues
---
| | | |
| --- | --- | --- |
| | Still Burning The Blues (2002) | |
* Click to hear a sample of the track.
| | | |
| --- | --- | --- |
| Musicians | Pat Rowbottom | vocals, bass guitar, keyboards |
| | Peter Cheetham | vocals, flute, tenor saxophone |
| | Simon Dowling | electric and acoustic guitars |
| | Dave Slater | drums and percussion |
| | Dave Connor | electric guitars |
Additional musicians and special thanks - Chas Duncan [piano on tracks 6/15] Daniel Hall [guitar on tracks 11/12/13/14] Keith Bonthrone lead vox on tracks 6/9] Andrew Mellor lead vox on tracks 11/12/13/14]
All songs Pat Rowbottom except Elven - Rowbottom/Duncan. Chasing the Dragon', 'Fools gold', 'Someone new'-Dave Conner. 'The Hunter'- Jones/ Wells. Recorded and mixed at The Basement Studio, Broadbottom and Shipwreck Studios, Glossop between 1997 and 2002. Mastered at The Basement Studio, Broadbottom, Cheshire in 2002.
Artwork design ideas by Julian Homer.
Engineered by Dave Forward and Paul Walster. Produced by Pat Rowbottom.
Background to this album
'Still Burning The Blues', is the third studio album recorded by Cold Flame. Released in early 2002, the album consists of a collection of original blues rock material some of which was recorded prior to the 'Stormcloud' sessions together with newer material specifically recorded for this particular album. Pat was once again the main songwriter but guitarist Dave Conner also contributed several songs to the project. Once again the band elected to use two studios - Shipwreck Studios based in Glossop, Derbyshire and Basement Studios in Broadbottom with studio engineers Paul Walster and Dave Forward sharing duties whilst final mixing and mastering was completed by Dave Forward at Basement Studios. The album marked the studio debut of the band's newest recruit Simon Dowling who had replaced Dan Hall in early 2001 though Dan played some lead guitar on several songs featured on the new record. With flute more to the fore on some of the material, the album boasts a much wider range of genres with light blues, heavy blues rock, progressive folk rock and r 'n' b all covered. Songs from this particular album were featured throughout the band's touring schedules across the country during the following twelve months.
The album 'Still Burning the Blues' is available via the band website Shop as well as via the band's official facebook site - https://www.facebook.com/coldflamebluesuk.
Still Burning The Blues - Old Veins New Blood Edition (2021)
-Starring Records Yorkshire England -
Release date - Wednesday December 1 2021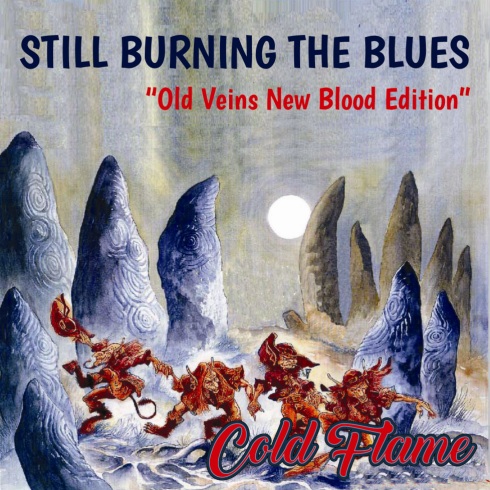 Starring Records are proud to announce the release of the extended 20th anniversary version of the Cold Flame studio album entitled - Still Burning The Blues - Old Veins New Blood Edition. The new version of this blues rock album has been remixed by studio engineer Neil Scales at Starring Studios in West Yorkshire and was produced by Pat Rowbottom. There are five previously unreleased songs included in this collection including two cover songs - Born under a Bad Sign[ Booker T/ Wells] and Ain't no sunshine[Bill Withers] both of which are available as streaming only. Collectively the new extended version of SBTB highlights the changes that occurred in band personnel during the final six months of 2001. This change in personnel inevitably led to changes in direction allowing for more originality and flexibility not just with the blues but also more obvious moves towards progressive folk rock. All the material in this anniversary collection come from the same time frame and feature the same musicians.
| | |
| --- | --- |
| The new edition features | - new album cover image |
| | - new mixes of all the original album tracks |
| | - five previously unreleased songs. |
| | - new written notes for websites/promo. |
Track Listing
End of the line
Burning the blues
The Hunter - Booker T Jones/Carl Wells
Still need you by my side
Chasing the Dragon
First time blues
Another day gone
Fools gold
Someone new
Mr.Pizza-Man
Wise Men and Fools
The Piper's song
No worry
I want to be me.
Elven
Burning the blues [ early version] *
After Mongolia *
Count me out again [ take 5] *
Born under a bad sign - Booker T Jones *
Ain't no sunshine - Bill Withers *

* previously unreleased
STILL BURNING THE BLUES - Old Veins New Blood Edition
[a track by track explanation]
END OF THE LINE A romantic tale gone wrong. I can only ever recollect meeting one girl at the railway station. She was from Scotland-tall, intelligent and gorgeous. Sadly our union was all too brief. The band just could not resist bringing out a brand new version of what has always been a storming crowd pleaser and recent set opener. One for Simon to express himself on the lead guitar.
BURNING THE BLUESThe title track of the album about life on the road. A continuous journey for most musicians, reflecting a long hard and at times lonely road but one that also has it's plus side which encourages all but the feint-hearted to carry on. A song with menacing bluesy overtones before becoming a vehicle for sax and guitar egotism.
THE HUNTERThe token cover number which has always been in and out of C.F sets for many years. It always retains a certain modest charm despite it's overtly sexist message.
STILL NEED YOU BY MY SIDE Typical r'n'b done the Cold Flame way. A new version of an old favourite which gives Pete an opportunity to let fly on his trusted tenor sax. This is the way it should have sounded in the first place.
CHASING THE DRAGONThis instrumental track was conceived when Dave C. visited the Far East. Originally appearing on Dave's solo album-'Second Contact' in 2001 ,this is a remixed version for this album.
FIRST TIME BLUESNot the version that appeared on the 'Stormcloud' album but a much simplified out-take from the same sessions in 1999.An opportunity for long time band friend and classically trained pianist, Chas Duncan to contribute something both poignant and audible backing Keith's rich vocal.
ANOTHER DAY GONEAnother out-take from the 'Stormcloud' sessions with double tracked flute taking responsibility for the lead work rather than acoustic guitar as on the original. The Tull influence permeates throughout.
FOOL'S GOLDA rare lead vocal opportunity for me back in 2001 on a quirky song of Dave's originally recorded in mid 1998.The song itself deals with being in a relationship that is going wrong. Man wants out. Time to move on but she won't let go.
SOMEONE NEWAnother tune of Dave[s recorded in 2001. This tune I am reliably informed contrasts dramatically with the previous one though lyrically the message is pretty much the same. An emotional rollercoaster - wanting someone who no longer wants you and knows it. Can you cope? What will you do?
MR.PIZZA MANA laid back blues instrumental around a repetitive riff.
WISE MEN AND FOOLSThe title track of what turned out to be a 'lost' album Recorded during late 1996/early 1997. The track itself is typical band fare..rocking to the limits as Dave and Dan exchange guitar histrionics around Andrew's powerful vocals - a warning of the dangers that can be presented by a beautiful woman.
THE PIPER'S SONGOriginally written for Pat's second folk rock style solo album 'Sands of Time' in 1995.Twelve months on the band decided on a full blown rerecording for the 'lost album' after previewing the track several times live to unanimous approval. Flutes, guitars and strings mingle together in a celebration of progressive folk rock. . Again you sense the Tull presence very forcibly.
NO WORRYA laid back catchy blues tune from the same sessions which showcases Daniel's finger work in the central instrumental passage and displays passing reference to guitar maestro Steve Vai.
I WANT TO BE MEAutobiographical.....Hmm,well perhaps. Who doesn't fancy at some point emulating their musical heroes.The stage beckons...the audience waits with pounding heart and baited breath as indeed so do I. It's not the money. It's the crack. Another out and out rocker from the same sessions in 1997 that only now sees the light of day.
ELVENA brand new instrumental closes the original album in an almost spiritual ethereal way. File under progressive folk rock.
BURNING THE BLUES [ early version]the original plan was to record the basic track and keep it standard apart from the quirky flute intro. For some reason this idea was abandoned and we ended up tagging a jam to the first part of the song instead allowing guitar and tenor sax to duel at length. Previously unreleased.
AFTER MONGOLIA - Another flowing blues song from Dave with guest vocalist Steve Chilton written originally in 2000 for his solo album 'Second Contact'. See Albums section for more details. This is a different mix of the song and a worthy edition to the expanded album. Previously unreleased.
COUNT ME OUT AGAIN [ Take 5] - Another version of this jazzy blues song featuring tenor sax. Previously unreleased.
BORN UNDER A BAD SIGN - A non original written by Booker T. Jones reflecting the input of some covers in live shows at the time, this song follows the regular song pattern. Previously unreleased.
AINT NO SUNSHINE - Another non original written by Bill Withers again reflecting the input of some covers in live shows. Quirky rocky ending closes the album in style. Previously unreleased.
---
This site is hosted by Vision Internet Ltd. Maintained by Shipnet.co.uk